Superfood Bites - Chocolate & Orange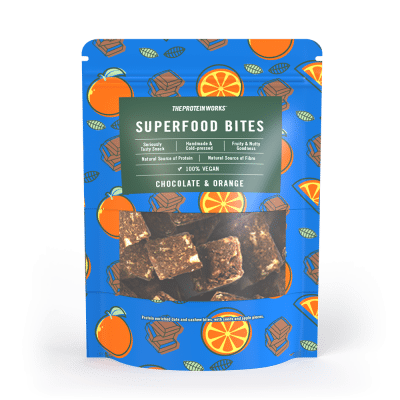 Superfood Bites - Chocolate & Orange
''I keep these with me when I am on the go! So delicious!'' - Sarah

Superfood Bites are our incredibly delicious, nutrient-dense snacks. Designed to give you a natural boost of energy, protein and fibre with no hidden nasties, any time of the day. You have to taste these for yourself! Made right here in the UK, using the finest nuts, fruits and seeds, sweetened with pure date paste and supercharged with premium superfood ingredients. Each perfectly sized bite contains as little as 0.8g of saturated fat and 3.9g of carbs
''I keep these with me when I am on the go! So delicious!'' - Sarah


Superfood Bites are our incredibly delicious, nutrient-dense snacks. Designed to give you a natural boost of energy, protein and fibre with no hidden nasties, any time of the day. You have to taste these for yourself! Made right here in the UK, using the finest nuts, fruits and seeds, sweetened with pure date paste and supercharged with premium superfood ingredients. Each perfectly sized bite contains as little as 0.8g of saturated fat and 3.9g of carbs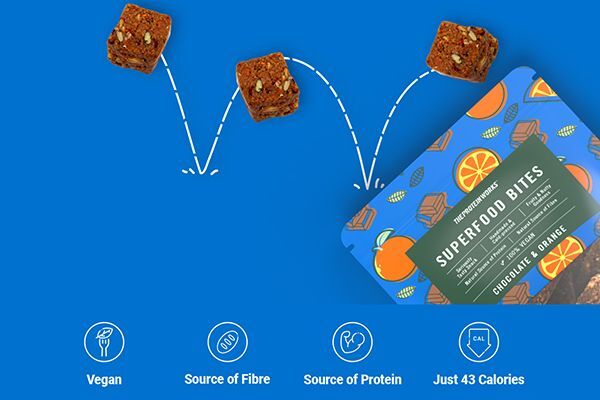 What Are Superfood Bites?
Protein Works Superfood Bites are the ultimate in all-natural, nutritious snacking. Created by the wizards at Protein Works to provide a burst of natural energy, vitamins and minerals when you need it most. Superfood Bites are ideal to dip into any time of day when cravings strike and each bite-sized treat is not only delicious but provides a source of protein and dietary fibre, packed with a delicious range of the finest fruit and nuts. Superfood Bites contain nothing but the finest 100% pure wholefoods, with each tub produced using a specialised cold-pressed technique to ensure the nutritional benefits of the key raw ingredients are locked in and help maintain their natural vitality.
What Are The Benefits Of Superfood Bites?
Aside from tasting absolutely incredible, our Superfood Bites are the perfect, portable on-the-go snack, providing you with the quality fuel your body needs - anytime, anywhere.:
Incredible source of all-natural energy - delivering you a nutritious boost whenever you need it most.
Source of protein - a tasty contribution towards your daily protein intake any time of day.
Source of fibre - each mouth-watering superfood bite is packed with dietary fibre to help your digestive system and gut health.
100% Plant-based - Suitable for vegans and vegetarians
Zero artificial sweeteners or additives - we use only the finest, natural, wholefood ingredients to create our Superfood Bites.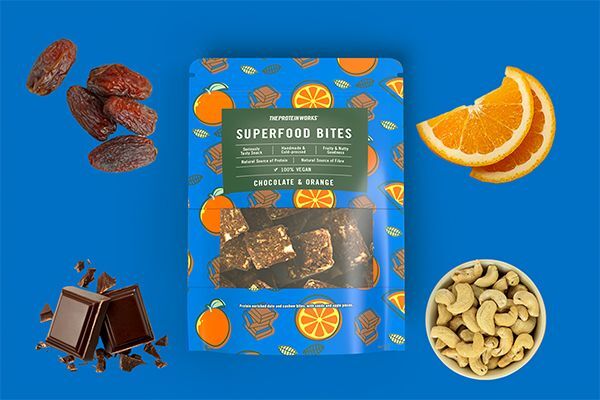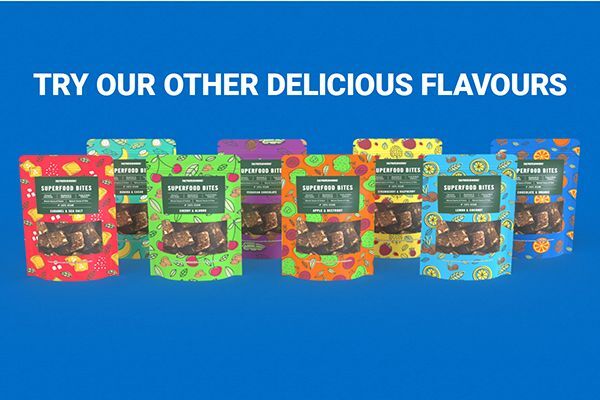 A Whole Host Of Delicious Flavours
Raw Indonesian Cacao - One for the chocolate lovers, the flavour and texture of this flavour is reminiscent of an indulgent, fudgy brownie with an added delightful bite of texture coming from the nuts and seeds. Share these at your own risk!
Banana & Cacao - These pack a delicious, natural banana flavour - close your eyes and you'd think you were eating a chunk of freshly baked chocolate chip banana bread! With our trademark Superfood Bites nutty texture and crunch, we'll warn you - these are dangerously moreish!
Read more
There are no nutritional values for this product
Ingredients
Chocolate & Orange
Allergens - See below ingredients in ORANGE
Date Paste (33%),

Cashews

(20%), Humectant (Grape Juice Concentrate, Rice Starch), Chocolate (Cocoa Mass, Sugar, Cocoa Butter, Natural Vanilla Flavouring) (10%), Pea Protein Isolate, Malted Toasted

Oats

(Wholegrain

Oats

Flakes,

Barley

Malt Extract, Sustainable Palm Oil), Virgin Organic Coconut Oil, Pumpkin Seeds (3%), Orange Powder (2%), Chia Seeds (1%), Golden Flaxseed (1%), Flavouring
Superfood Bites are ideal as a healthy snack any time of the day.
Related Products
Innovation after innovation our Vegan nutrition just keeps getting better and better. Our Vegan Protein Bars, Vegan Protein Powder, Vegan BCAA's and Superfood Shakes all created using nutritional science and premium plant based proteins for the very best results.
UK Delivery

From £3.99 | Free Delivery From £50 | Order by 9pm for Next Day Delivery Read More

International

From €6.99 | Ship to Over 200 Countries | Order by 5pm for 48 Hour Service (Mon-Fri) European Delivery Rates


Returns

Lifetime Guarantee on This Product Read More
Q. When is the best time to eat Superfood Bites?
A. You can enjoy our Superfood Bites any time of day as a delicious, nutritious snack.
Q. What pack sizes does Superfood Bites come in?
A. At present, Superfood Bites from Protein Works is available in a pack size of 140g.
Q. Will I get any side effects from eating Superfood Bites?
A. We haven't heard of anyone suffering any side effects as a result of consuming Superfood Bites.
Q. Are Superfood Bites suitable for vegetarians and vegans?
A. Yes, Superfood Bites are suitable for both vegetarians and vegans.