Our Ridiculous Vegan Protein Bar has been thoughtfully designed to balance your conscience and your cravings. It's fully plant based and purposefully palm oil free. It's also low in sugar, high in protein & high in fibre, keeping you fuller for longer in less than 200 cals a bar*.

Free from gluten, preservatives and containing zero artificial flavours and colours it also uses only natural sweeteners. Yet it's still been crafted to deliver a 'ridiculous' multi-layered experience of a biscuit dough, nuts and caramel body, smothered in plant based chocolate & smattered with high protein crispies. It's quite simply a vegan bar like no other.

Why Buy Ridiculous Vegan Protein Bars
Fully Plant Based

Less Than 200 Calories Per bar

High Protein, Low Sugar

Multiple Levels of Indulgence

High In Fibre

What Is Ridiculous Vegan Protein Bar?
Named after the countless reactions we've seen from people after they try this nifty plant-based protein snack, this is a vegan bar designed with zero compromise in mind; a gift for your conscience and your cravings.
Ridiculous by its very nature, this bar technically shouldn't be possible! Combine these features as standard in every single bar, and you start to understand why it's Ridiculous:
Fully plant based
Purposely palm oil free
Minimised environmental impact
High protein & less than 1g of sugar
High in fibre to keep you fuller for longer
Less than 200cals a bar*
Completely gluten free
Zero artificial flavours, colours or preservatives
Naturally sweetened
Delicious in taste, with multi layerings of indulgence
...All stacks up to a vegan bar like no other.
What Are The Benefits?
Short answer - zero compromise! Zero compromise for the mind, the body and the taste buds.
You're grabbing this bar each day with a grin on your chops because you know, guilt free, conscience clear - it's right for you and the planet.
Ridiculous Protein Bars works to minimise your impact on the environment because it is:
100% Vegan, so it reduces manufacturing drains on the environment by using sustainable plant based ingredients.
100% Palm Oil Free, so it protects rainforests and animal health & habitats by defunding palm oil production.
Made to Reduce Food Waste - hand balanced portion sizes, mean you don't 'over consume' food from the planet. We taste tested different sized bars in the innovation and found that in general, bars bigger than 50g create waste or consumption without benefit. So we decided to create a 47.5g bar in a handy 9 pack paper based box.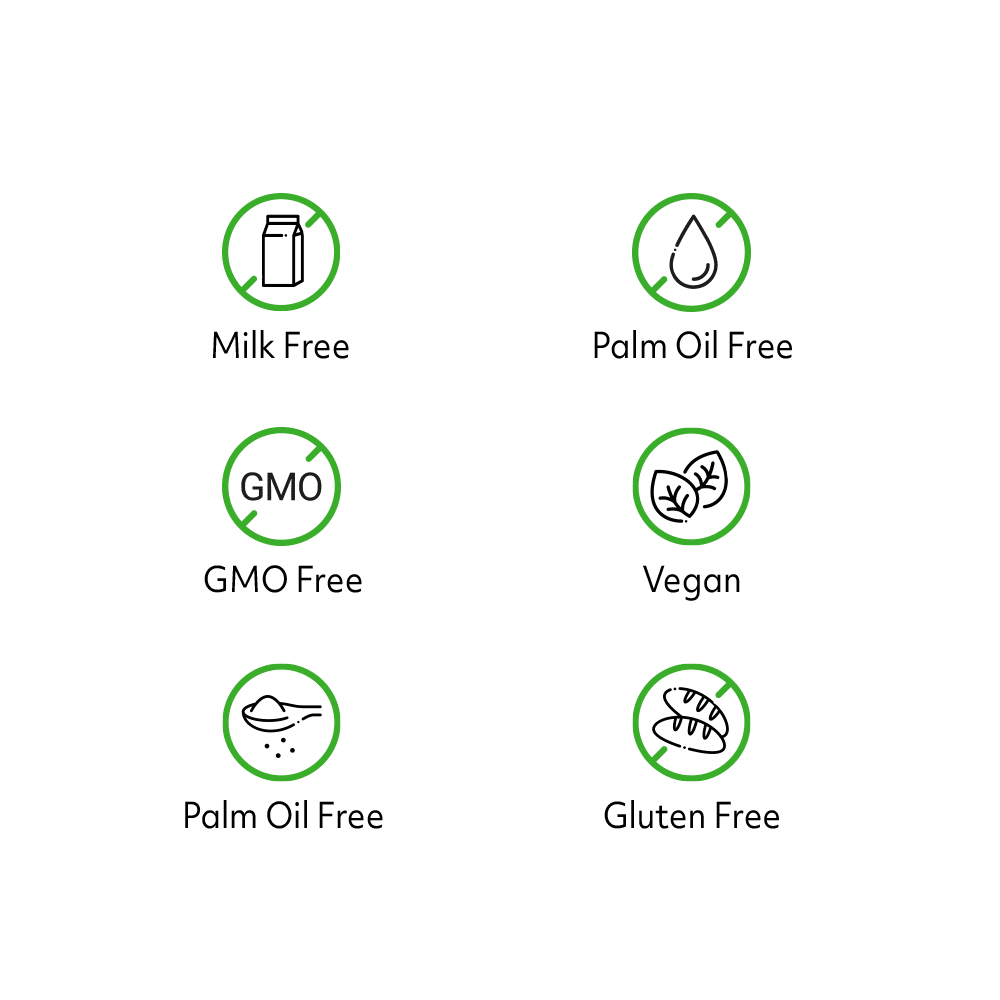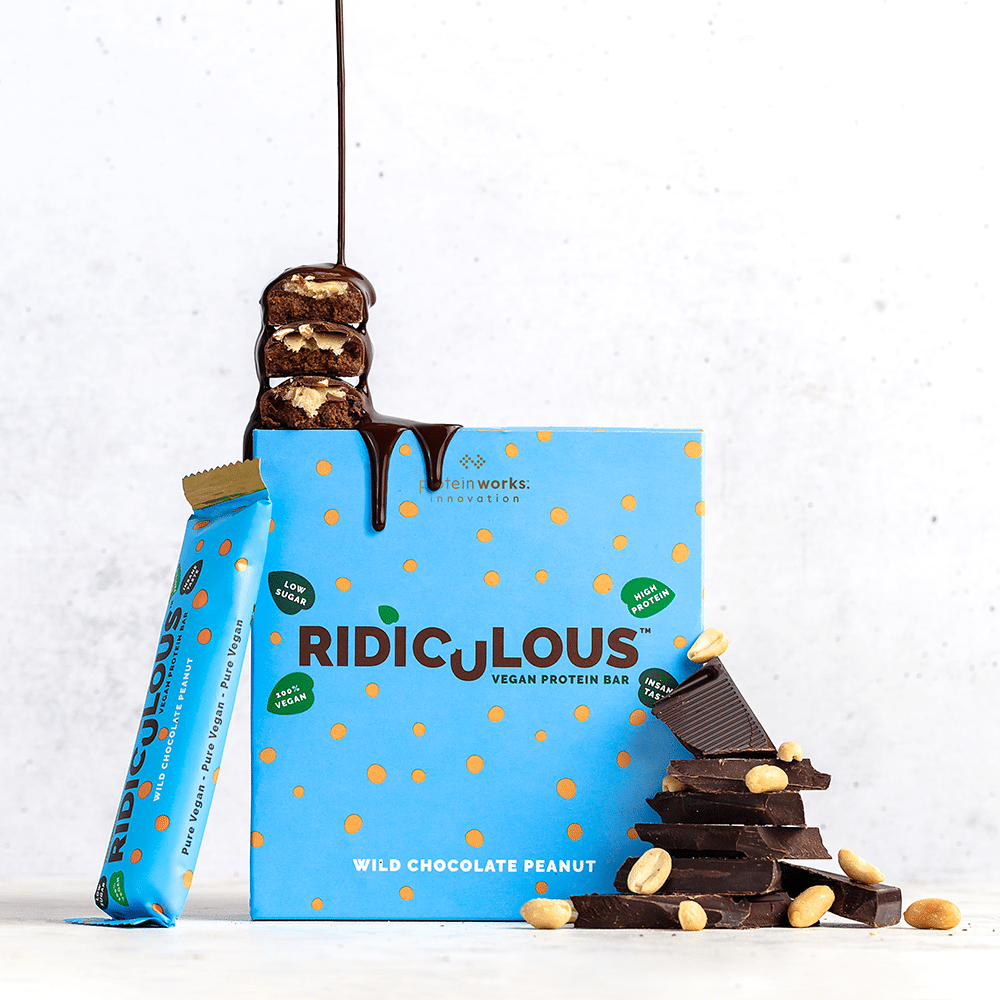 What Are The Health Benefits?
You might be looking for a healthy snack to stop you reaching for junk food, or you're looking to grab a plant based protein hit. However you use Ridiculous, the benefits are clear:
Plant based dual source protein blend
High protein helping to maintain healthy muscle
Less than 1g of sugar helping you cut back
High fibre to care for your gut and aid digestion
Balanced to keep you fuller for longer in only 200cals a bar
Zero artificial flavours, colours & preservatives
Only naturally sweetened to reduce sugar intake
Free from gluten, perfect for celiacs
Of course, of all the health benefits you gain from grabbing a Ridiculous Vegan Bar - we call these proactive benefits, you can pretty much double, by the sheer fact you're not grabbing the junk packed confectionery bar. We call these bonus benefits!
Flavour to Knock Your Socks Off!
Crafted to deliver a 'ridiculous' multi-layered experience of a biscuit dough, nuts and caramel body, smothered in fully plant based chocolate & high protein crispies, there is zero compromise for your taste buds with this vegan protein bar.
Get your hands on our Triple Chocolate Brownie or Chocolate Biscuit Crunch. Go nuts with the Wild Chocolate Peanut or get that dairy-style hit with Chocolate Caramelicious. Or why not try our latest flavour, Cookies & Cream Crisp - a protein packed spin-off of the classic favourite!
One thing's for sure, our in house team of experts have worked tirelessly to ensure flavour is as legendary as you'd expect it to be from Protein Works.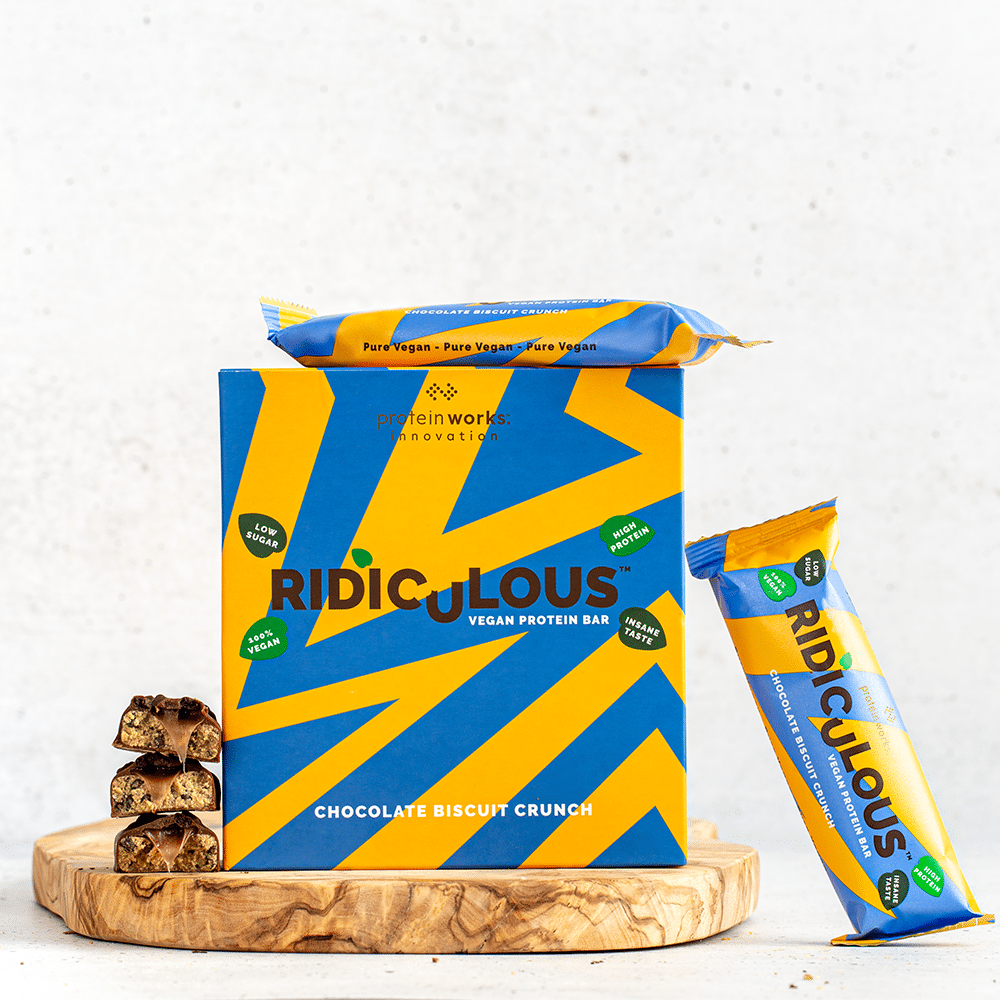 How Can You Use this Vegan Bar?
We crafted this plant based snack into perfectly sized portions.
At just under 50g a bar, it's a convenient and balanced portion size to stave off hunger whilst giving you a balanced nutrition packed hit and minimising food waste.
Grab a bar with a brew, after a gym session, on the run for brekkie, on the couch for Netflix and chill, it's totally your call.
Any time of day, anywhere in the world, stash A Ridiuclous Vegan Protein Bar in your bag and you are ready to go!
Premium Nutrition Guarantee
As always, you can have supreme confidence in the product quality and supply source. Each ingredient supplier must pass rigorous audits and checks before being given the Protein Works quality seal of approval. Traceability, quality, and consistency are the three things we demand on every single ingredient. This is our philosophy that flows through every product we manufacture and sets us apart in the world of food today. Click on the tabs above to see full product information for your absolute peace of mind.
* Disclaimer: Customer reviews are independent and based on personal experience. Individual results may vary. Products designed to be taken in conjunction with a balanced diet. Nutritional Information per serving and per bar based on Chocolate Caramelicious
Please Note: flavour imagery is only a serving suggestion and for illustration purposes. It does not represent actual flavour ingredients.