Grab a spoon and dive into a nutritious, natural and healthy Superfood Breakfast Bowl.

Available in 3 delicious flavours, each bowl is made with real food ingredients, packed with heart-healthy fibre, and is naturally high in protein and slow release carbohydrates to keep you fuelled throughout the morning.

Combining wholesome grains, seeds and oats, each bowl is full of all the good stuff your body needs to thrives on. Containing only natural sweeteners, with absolutely no palm oil or artificial preservatives.
Why Buy Superfood Breakfast Bowl?
Nutrient Dense Super Breakfast

Packed With Healthy Grains & Seeds

3 Delicious Flavours To Choose From

15g Protein

Naturally High In Fibre

Easy To Make
Real Food, Real Nutrition, Real Taste
Superfood Breakfast Bowls are made of 100% real food ingredients, giving you all that natural goodness in a filling balanced meal that tastes great. Each Superfood Breakfast Bowl contains:
Slow Release Carbs: Quinoa, oats and cous-cous provide slow release carbs.
Healthy Fats: From sunflower seeds,chia seeds and flaxseeds.
Naturally Sweetened: No artificial sweeteners, just coconut sugar to sweeten things up.
15g Protein: Contributing to the growth and maintenance of muscle mass.
4.5g Fibre: Naturally high in heart-healthy fibre.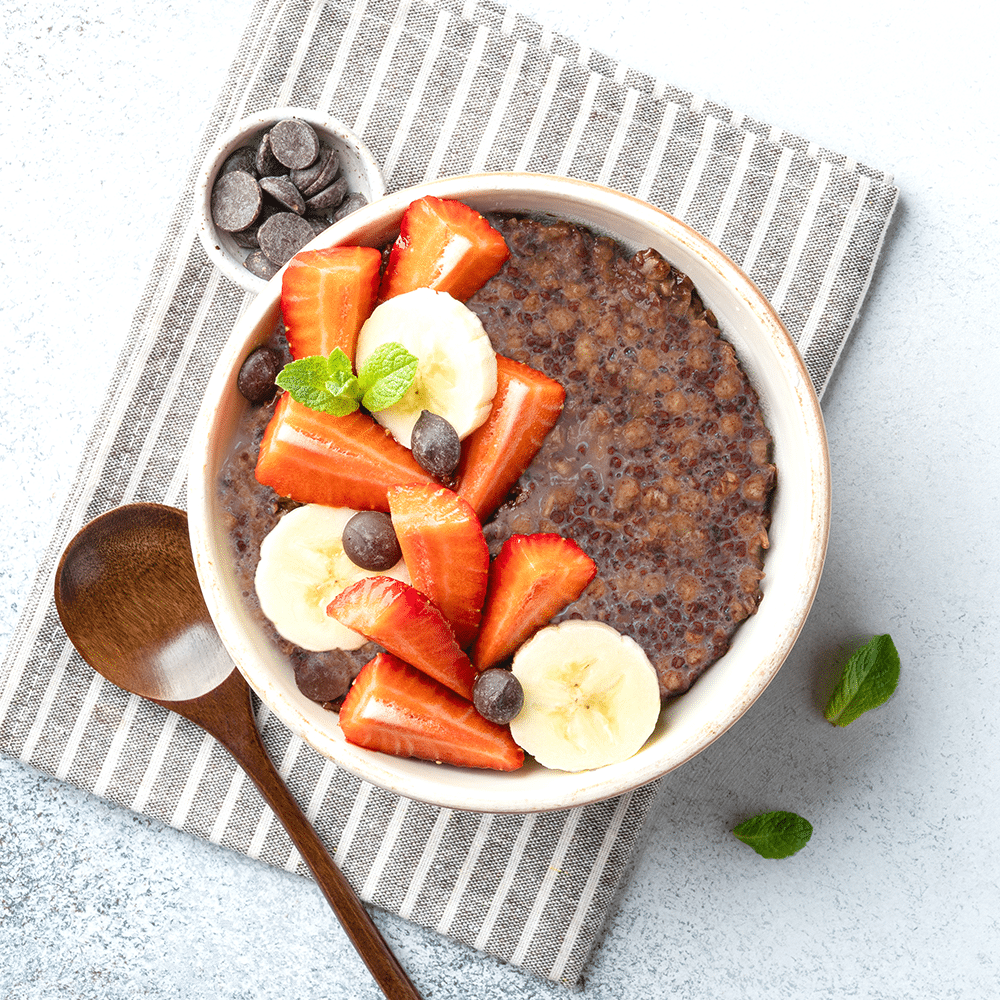 3 Indulgent Flavours to Choose
Each warm and hearty flavour of Superfood Breakfast Bowls is packed with wholesome goodness and topped with real fruits pieces:
Apple & Cinnamon: A warm bowl of hearty goodness, fused with cinnamon and caramel, topped with apple and sultanas.
Double Chocolate: Chocolate lovers unite! Topped with chocolate pieces to give you a healthy morning chocolate fix.
Summer Berry Feast: Fuel your morning with a combo of raspberry, cranberry and wholesome grains and seeds.
Convenient and Easy to Make
Shake the pouch to mix the ingredients thoroughly.
Add 2 gold scoops (60g) to a heatproof bowl.
Add 150ml of your favourite milk.
Mix and microwave for 1 ½ minutes.
Mix and leave to stand for 4 minutes.
Please Note: flavour imagery is only a serving suggestion and for illustration purposes. It does not represent actual flavour ingredients.