DIET MEAL REPLACEMENT EXTREME
Nutritional Insights
205
calories
Per Serving (g)
25.0
protein
Per Serving (g)
Product Highlights
Tri-Protein
Blend
Flushed With
Vitamins
Unrivalled
In Taste
Free From
Gluten Free
Wheat Free
Want it Tomorrow 23 Oct?
Order within 3h 24m 45s and it'll leave us today!
Why you love it...
"So delicious, I have this to replace my lunch and it keeps me full until tea time! No stodgy cravings, I feel super satisfied" – Annie
Why we love it...
Diet Meal Replacement Extreme boasts everything you could possibly ask for in a meal replacement shake, and then some. Made from our very finest whey protein blend, it contains an optimal mix of fast and slow absorbing proteins to support muscle growth and repair. Every calorie has been squeezed and only the necessary made the final cut, providing the essential fuel you need to achieve your goals for just 209 calories per taste bud exhilarating shake. Better still, our new and improved formula now contains a new super dense Vitamin and Mineral Blend packing more punch per gram to help you fight fatigue and keep your body performing at its very best.
51% OFF! - *SPECIAL OFFER!*
CODE: SAVE51
*Code Valid on Orders Over £10
Frequently Bought With...
Protein Shake
Fat Burner
Protein Snack
Top Picks
SLIMMED DOWN

TO PERFECTION.

Calorie counting may seem like a chore for some, but for the TPW™ gurus it's part of a mantra we live by. No stones left unturned, every tiny molecule that makes up our Diet Meal Replacement Extreme has been questioned, does it belong there, does it work with all the other ingredients, does it deliver? After an entire year of repeatedly breaking barriers, we now proudly present our latest and greatest, a diet meal replacement that truly is fitter and faster, made from the finest tri-protein blend, combined with only the most necessary fats and sugars to help you feel full whilst also helping you achieve your body composition goals.
THE
WHOLE

PACKAGE.

"Take our best selling meal replacement shake and make it even better." A task few would take on, but the TPW™ gurus not only rose to the challenge, they completely smashed it and set a new precedent for meal replacement shakes. Our Diet Meal Replacement Extreme is comprehensive, fundamentally designed to help you smash your body composition goals. Breaking it down, we started with our innovative protein triple blend, combining Whey Protein Isolate, with Soya Protein and Micellar Casein to give you a complete protein profile of fast and slow acting proteins to support your body with all the protein it needs. Next on to the fats and carbohydrates, where we've hand-picked the very best. If it wasn't necessary it didn't go in, delivering more bang for your buck whilst keeping this unique shake super lean. Finally, we added our innovative Vitamin & Mineral Blend, which contains no less than 23 essential vitamins and minerals, covering all aspects of sports performance from fighting fatigue, to helping protect your body's cells from oxidative stress. When we say this meal replacement is complete, we truly mean it.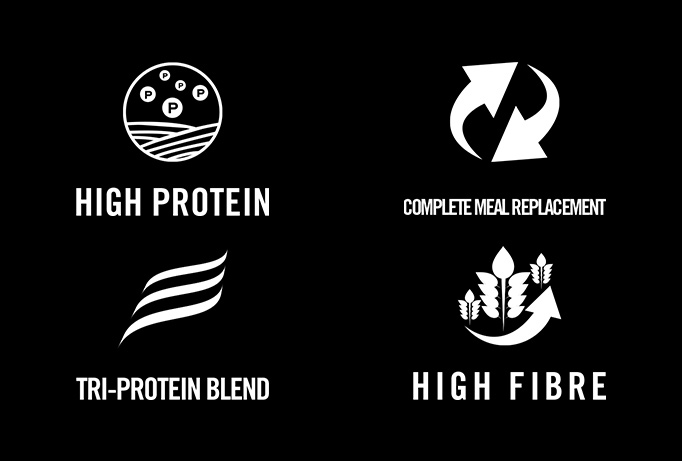 MADE OF
MORE.
HIGH IN QUALITY PROTEIN – Using our innovative Tri-Protein Blend of Whey Protein Isolate, Soya Protein and Micellar Casein, this tremendous trio deliver on two fronts, firstly providing all the protein your body needs to help provide a perfect balance of slow and fast proteins to help you feel fuller for longer.
SLIMLINE FAT CONTENT – As little as 2.4g of healthy fats per serving. Leaving you with just the essential healthy fats you need to know to feel full
HIGH IN FIBRE – Ensuring our shakes are processed by your body as easily as they go in.
NEXT LEVEL FLAVOUR – Each and every Diet Meal Replacement Extreme Shake is fused with Flavour-Boost™ Technology, creating a new level of flavour to truly #exerciseyourtastebuds After all, you don't eat tables and checklists!
PACKED

WITH NUTRIENTS

No less than 23 essential vitamins and minerals make up our ground-breaking new vitamin and mineral blend. Delivering a level of potency that floods your body with a higher concentration of heavily studied and hand-picked vitamins and minerals to support a healthy lifestyle:

GLUCOMANNAN – A dieter's best friend. Scientifically shown to help support weight loss when used in a calorie restricted diet.

VITAMIN B 1,2,3,5,6,12 – Putting the Balance in Vitamin B, contributing to normal function of the immune system, red blood cells whilst also battling tiredness and fatigue.

VITAMIN C ENRICHED – From iron absorption to teeth, skin, gums and cartilage, there isn't much of the body this vitamin doesn't contribute to. An all round super vit!

VITAMIN D – Maintaining a healthy lifestyle whilst in a calorie deficit not only exhausts your energy cells, but also your immune system, supplementing with Vitamin D contributes to stopping this by providing support to your immune system.

CONJUGATED LINOLEIC ACID (CLA) – Used in sports nutrition for years, CLA is a staple supplement for anyone looking to improve their body composition goals.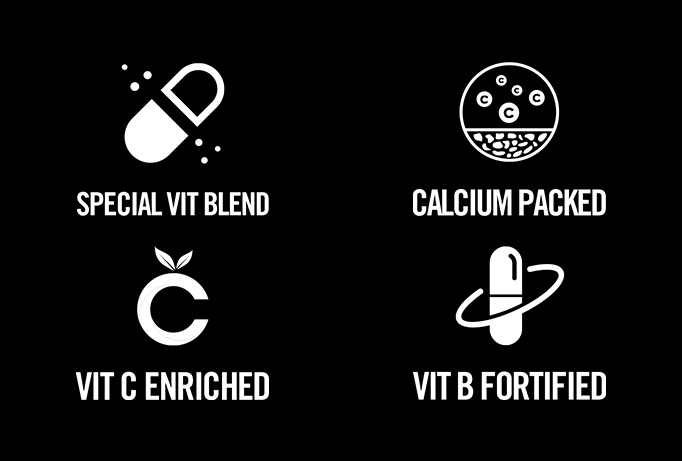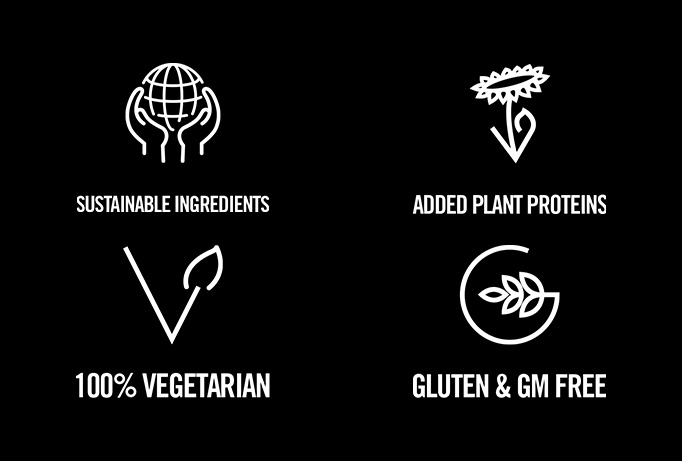 EXTREME

BY NAME

What's the point of making the best performing, best tasting and most complete diet meal replacement shake if it can't be enjoyed by the masses? Not just by all our TPW™ Tribe, but also by Nature itself. That's why each and every ingredient found within our Diet Meal Replacement Extreme shakes is expertly sourced and infused with our 100% Flavour-Boost™ technology.

ADDED PLANT PROTEINS – Hand-picked on merit, we use Soya Protein as part of our innovative Tri-Protein Blend to deliver a complete Amino Acid profile.

100% VEGETARIAN – Don't despair vegans, we've got a Vegan Meal Replacement Shake too!

GLUTEN AND GM FREE – 100% Gluten Free, as well as no hidden nasties or genetically modified ingredients.

SUSTAINABLE INGREDIENTS – Built to last, our Diet Meal Replacement Shake is as easy on the planet as it is on your taste buds.
CHOCOLATE AND OREO SMASH 'EM SMOOTHIE
Our most versatile powder ever means you can enjoy it just the way you like it, check out this insane tasting recipe for inspiration.
INGREDIENTS
1 Scoop of Chocolate Diet Meal Replacement Extreme, 275ml of Semi Skimmed Milk ,4 Oreos, TPW™ Choc Fudge Zero Syrup
RECIPE
Crush the Oreos with either your hands or a rolling pin. Add half the crushed Oreos, 1 scoop of Diet Meal Replacement Extreme and the Milk to a glass and mix well.Now for the fun part. Top the shake with the remaining oreos then drizzle over the TPW™ Choc Fudge Sauce.
Take a moment to then admire your creation before very quickly devouring it.
MADE WITH
FLAVOUR BOOST™
We all know that if something tastes horrid, you won't drink it. That's why at TPW™ we have a slight flavour obsession, Ok a HUGE flavour obsession. So much so that we've now created a new range of Premium Flavours, used in all of our shakes to deliver a level of flavour we know you won't have experienced before. Why so confident? Well when you've interviewed over 1000 people on what makes their tastebuds tingle you get a pretty good grip on what works and what doesn't, plus flavour is part of the philosophy on which our great brand heritage is built. We've used premium flavours since we opened our doors. We invested in building our very own in-house Flavoury™ and Protein Bakery™, delivering fresh baked snacks for our ever growing tribe of snacked crazed fans.
Love the strawberries and cream flavour, I always have it for breakfast! It tastes so good and the shake makes me feel very satisfied! If you enter this code when you sign up you'll get free protein shakes too which is great! Code: KP1276337
The best tasting meal replacement diet or not whilst still delivering high nutritional value, I would recommend Chocolate Silk or Vanilla Creme Crush. For FREE protein with your order use my referral code: RP1247343
I have tried the Banana Smooth which was great and I managed with healthy eating to drop 6lbs in only a couple of weeks so I decided to go for the butterscotch ripple which is OK but I find it harder to mix so get more lumps in it. very frustrating! I would not order the butterscotch again. Maybe another better mixing one can be suggested???
I ordered this to try a new approach to losing weight. I never used to eat breakfast anyway so thought this would be a good place to have a meal replacement shake. I've tried them before in the past but always found if crash mid morning and need something else to eat. Not with this. It's truly filling and there have only been two occasions in the last 3 weeks I've needed to have a snack to keep me going. What's more it tastes great too (Chocolate Silk). Definitely one to consider buying if taste and feeling satisfied between meals are priorities for you.
I have tried several different meal replacentshakes from various companies but this one is by far the best especially considering the price. Tastes smooth and is not grainy highly reccommend.
Diet Meal Replacement Extreme is the ultimate meal replacement protein shake. It can be taken in replacement of any meal, up to 3 times per day in line with a healthy balanced diet. Just add 2 scoops to 400-500ml of water or milk, shake and enjoy.
This high protein shake can also be consumed as a nutritious snack to curb cravings and add some extra calories to your diet. What's more, it's also an epic addition to your smoothies, adding a protein punch when you need it.
Q. When should I take Diet Meal Replacement Extreme?
A. It depends upon your lifestyle and goals, but we recommend consuming between 2 to 3 times a day.
Q. Why do I need to take protein?
A. Protein out of any other macronutrient has been shown to have a greater satiating effect, meaning it keeps you fuller for longer. Plus whey protein specifically has been shown to 'thermic effect' meaning it actually requires calories to digest.
Q. Can I take Diet Meal Replacement Extreme with other supplements?
A. Yes. Whilst Diet Meal Replacement Extreme has been designed to be a comprehensive meal replacement shake designed to contribute to weight loss, you can use other products to help your diet. From Protein Cookies to help meet your elevated protein needs to nut butters as a great source of dietary fat, most other products will work well with Diet Meal Replacement.