Diet Meal Replacement Extreme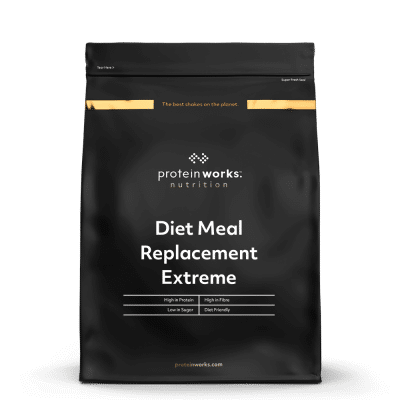 Diet Meal Replacement Extreme
Diet Meal Replacement from TPW™ is a high protein, nutrient dense, meal replacement shake specifically designed to contribute to weight loss. It is formulated with a multi-protein source blend comprising of whey protein concentrate, milk protein and Prolibra®.
Diet Meal Replacement shake has been enriched with vitamins and Konjac Glucomannan, a form of fibre that has been found in studies to contribute to weight loss, we've also included premium grade Matcha Green Tea, Acetyl L Carnitine and Clarinol® CLA. A meal replacement shake doesn't get much better than this.
"So delicious, I have this to replace my lunch and it keeps me full until tea time! No stodgy cravings, I feel super satisfied" – Charlie

Diet Meal Replacement Extreme is the ultimate meal replacement shake. This advanced formula is high in protein, low in calories and packed full of vitamin and minerals.

A cutting-edge combination of both slow and rapidly digesting protein, low GI carbohydrates and high fibre. Diet Meal Replacement Extreme supports healthy weight loss* while keeping hunger at bay for longer.

Consistency is key when trying to lose weight, this is why we prioritise taste and consistency. With a complete range of flavour options, we are confident this is an accomplice for your weight-loss journey.

Our new best-ever tasting formula is now available in a variety of delicious flavours. Please note, Diet Meal Replacement Extreme is not suitable for Coeliacs. For a gluten-free meal replacement shake, please turn to Diet Wondermeal.