Filter Diet Protein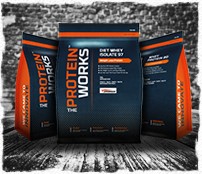 Can Protein Shakes Help My Diet?
The Diet Protein part of THE PROTEIN WORKS™ website is not surprisingly one of the most popular. This is because our widely acclaimed natural flavours and colours means that dieting is no longer a chore. Instead flavour is back on the menu with less calories, carbohydrates and fat. All thanks to Diet Whey Complex and Diet Whey Complex Advanced.
Of course, as well as arriving in some amazing flavours that range from Chocolate Silk to Vanilla Crème, each and every Diet Protein from TPW™ is also enriched with science-backed ingredients. This includes the special fatty acid CLA, premium grade green tea capsules as well as a nutritionally advanced macronutrient profile. Essentially, each diet shakes epic flavour is only matched by their supreme nutritional engineering.
One final point to consider is most Diet Protein formulas are thicker in texture compared to our pure Diet Whey Isolate 97. This is because the premium grade content of whey protein isolate has been enriched with more ingredients to more compressively help with dieting. Many people like this, but it's something to bear in mind when mixing your diet protein shake.
Diet Whey Complex is a unique formulation of the finest quality ingredients designed to promote weight loss. Combining an optimal ratio of three premium grade proteins, It is ideal for anyone looking for high quality supplementation to help achieve their weight loss goals.

Diet Whey Complex Advanced is the most forward thinking fat loss protein shake on the market today. It is unparalleled in terms of quality and formulation and it is ideal for anyone looking to reduce their body fat or lose weight.

Diet Whey Complex Extreme is designed to break new frontiers in diet whey protein formulation. Borne out of a wealth of research, it incorporates cutting-edge ingredients that push the boundaries of sports nutrition and deliver a diet shake of unparalleled potency.