Diet Whey Isolate 90 contains up to 23g of protein per 25 gram serving*. This premium grade whey has the most complete amino acid profile, boasting the ever essential 3g of leucine in every scoop.

Protein Isolate 90 is undoubtedly the ultimate whey protein shake, scientifically proven to be rapidly absorbed and utilised by the body.

The purity means you get less than 2g of carbs and only 92 calories per serving. Making it an incredibly lean way of increasing your protein intake without the addition of extra calories – two key aspects for weight control.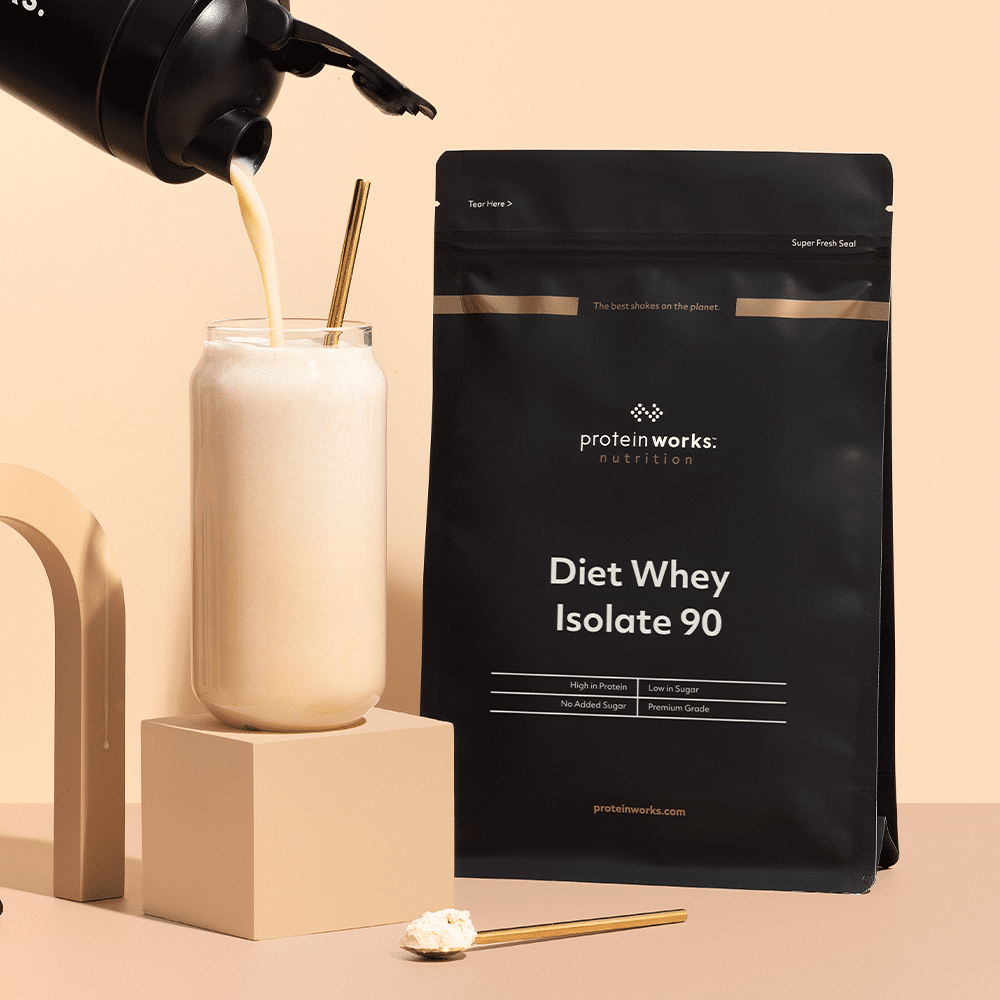 Why Buy Diet Whey Protein Isolate 90?
Ultra Premium Grass-Fed Whey Protein

High Protein, Low Sugar

Rich In BCAAs

Amazing Tasting Flavours

Perfect For A Calorie Controlled Diet

What Are The Benefits Of Whey Isolate?
Due to its natural pure protein content, Whey Isolate 90 contains some nutritional benefits for those that enjoy keeping themselves fit and healthy. As with all protein shakes, protein content is extremely important, and with this product, it just got even better!
Diet Whey Isolate 90 boasts a high-quality source of protein that allows you to get the most macro and calorie friendly protein-rich shake. Its low fat status makes it the perfect protein shake for those that are watching their calories and, in the context of an energy restricted diet, Diet Whey Isolate 90 can support weight loss.
It is worth noting that our Diet Whey Isolate 90 is undenatured and instantised, meaning that the whey is micro-filtered and not heat treated. This process ensures that the protein stays intact and as pure as it can be. Just like Mother Nature intended. It also enables the powder to mix easily and achieve a smooth texture, giving you the perfect protein isolate shake.
Who Is Diet Whey Isolate 90 Powder Suitable For?
Diet Whey isolate 90 Powder is ideal for those who are on a calorie-controlled diet and working towards losing body weight. That said, it is suitable for everyone looking to boost their protein intake in a high protein and low fat way, no matter your body type, meal plan, or gender.
Diet Whey Isolate 90 is available in a huge range of flavours, meaning that you can mix things up on a daily basis and, if you want, enjoy a different flavour every day of the week!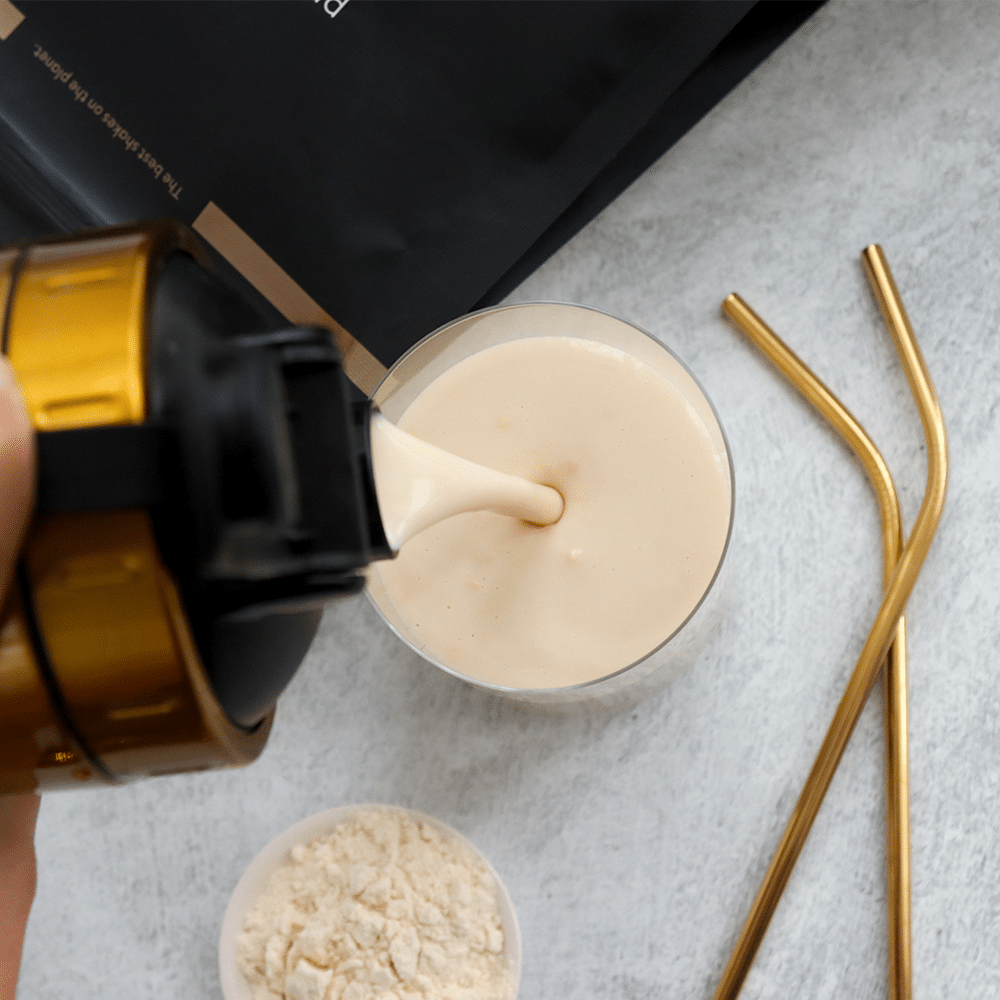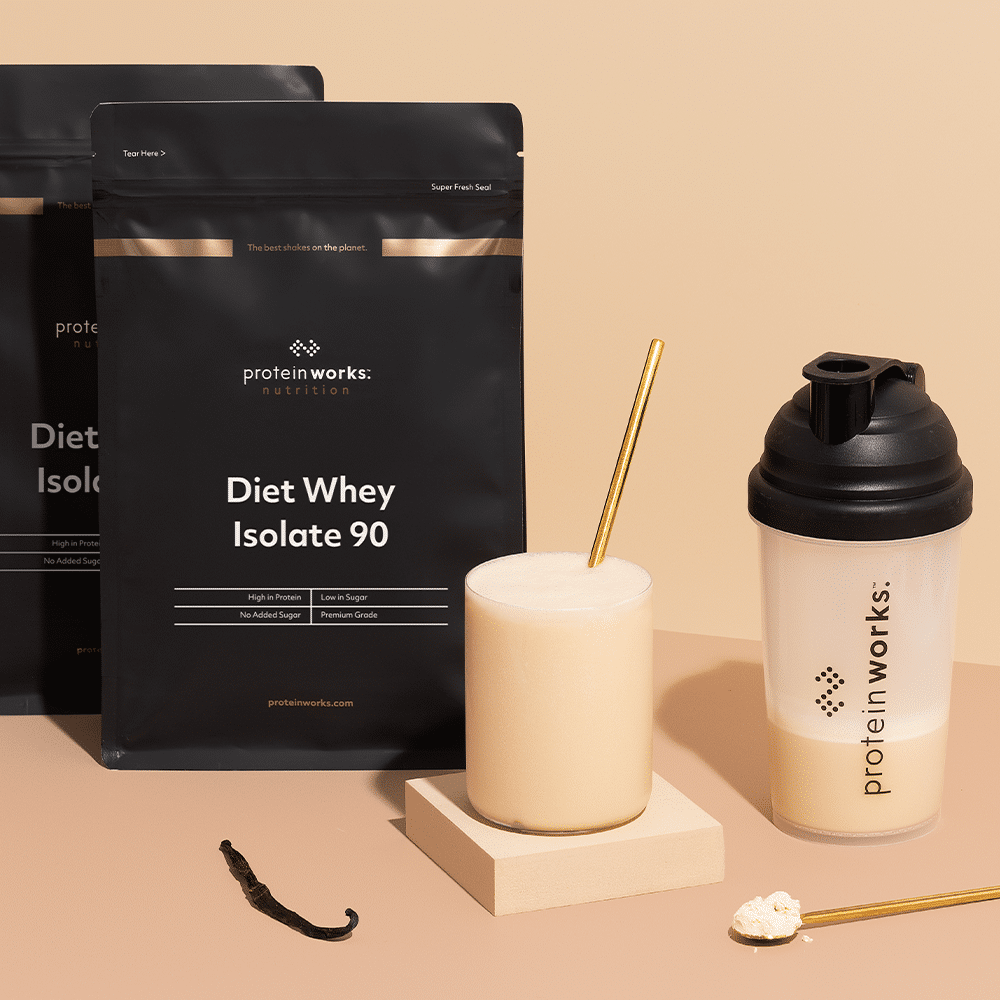 What Is The Difference Between Whey Protein Concentrate And Whey Isolate?
We've discussed how Diet Whey isolate 90 Powder is made, although its awesome flavours and nutritionals you may think its magic (it's actually an awesome concoction of science and engineering), but how does this differ from just whey protein. Well, whey protein and whey isolate have been an ongoing debate for years, and there is still no outright winner, it just comes down to which suits you and your diet best.
Whey isolate is made from whey protein that goes through a higher filtration process, giving it a higher protein content, lower fat content and lower calories. This means that it also has a higher price due to its longer production process. Another large difference between whey protein concentrate and whey protein isolate comes after the manufacturing process and depends on other ingredients that may be added. Often, whey isolate, as its name suggests, will contain just isolate protein. Some other whey proteins, however, could also contain, e.g. added creatine or other supplements. If you're interested in a whey protein blend option, please turn to our range of Whey Protein Powder available.
What Works Well With Whey Protein Isolate?
With Diet Whey Protein Isolate 90 working so well in calorie-controlled diets, it makes sense to combine it with some of our finest weight loss support supplements. Red-Cell™ combines two of our most powerful thermogenic products to create the ultimate supplement for anyone on a calorie-controlled diet. CLA is another must-have weight loss support supplement, used for years by fitness models and athletes looking to cut weight.
* Disclaimer: Customer reviews are independent and based on personal experience. Individual results may vary. Products designed to be taken in conjunction with a balanced diet and training plan. Nutritional Information per serving based on Chocolate.
Please Note: flavour imagery is only a serving suggestion and for illustration purposes. It does not represent actual flavour ingredients.