Filter All Day Protein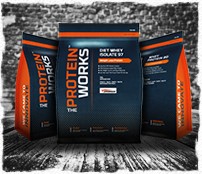 What's The Best All Day Protein?
THE PROTEIN WORKS™ All Day Protein was created to help people meet their elevated protein requirements. This is because athletes, and those looking to lose weight assisted through a high protein intake, will often find it hard to eat enough protein throughout the day. Thankfully TPW™ created the amazingly flavoured All Day Protein so now you no longer have to rely on unseasoned chicken breasts or hard boiled eggs.
The reason All Day Protein is different to most other formulas is because it's been designed to have a multi-timed release protein system. What this means is it contains a blend of different proteins that each have varying absorption rates, digestive rates and amino acid profiles. It's the varying properties of each protein contained within the All Day Protein formula which then slowly drip feeds amino acids to the body throughout the day and keeps us satiated and feeling fuller for longer.
All Day Protein is essentially the sum and substance of the single, premium grade proteins we have within THE PROTEIN WORKS™ range. From whey protein to casein protein, we take the best parts of each and fuse them together to make the the All Day Protein range which has been in our bests-selling list ever since.
All Day Protein is a multi-timed release protein designed to drip feed an effective supply of nutrients to the muscles over a sustained period of time. This next generation supplement is formulated using premium grade ingredients and TPW™ natural flavours for the ultimate in purity.