Open The Magical Doors.
First off, we've got to get in. It's a well-known fact that gaining access to this secret underground lair at TPW™ Towers isn't easy. And after taking the protein snacks world by storm you can understand the need to keep our secrets guarded. Once you've been allowed past security, you're welcomed into a secure changing area. No phones, no jewellery, no food. Hair nets are compulsory and donning special bakers clothing is a must (and a treat!). This ritual is followed by walking through the high-tech hygiene area to ensure absolutely no unexpected nasties can ever enter our sacred bakery. 100% shiny clean & looking like a French patisserie chef, you're ready to go.
The doors are opened. Smack… It's the aromas that hit you first. Melting chocolate, roasting nuts, more melting chocolate and fresh brownie dough. It's a harmony on the senses. But as they settle, you notice the sparkle; the shelves are gleaming, the flash of hand held cutters catches the lights and the oven doors hide piping steam bellows. The place is immaculate and it's alive. The sense of pride that the team has glows. But it's the undercurrent of expectation, of the impossible made possible that makes this place special. It's a hive of innovation and pioneering bake-fresh processes.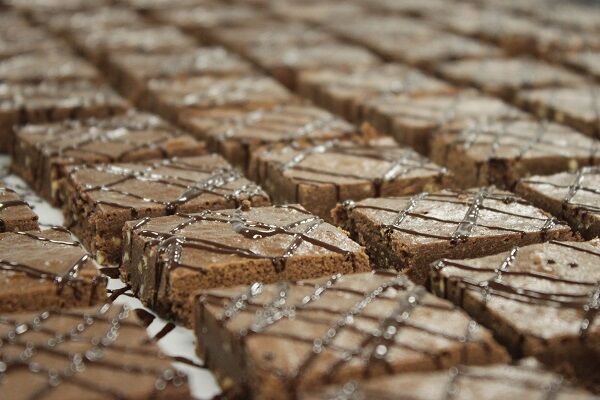 The Finest Ingredients
After regaining control of every indulgent craving known to man - you might want to read the story of our Cacao Almond Nut Butter, or ask our customer services heroes how many protein snacks they're 'forced' to taste each day. Only then can you get a feel for just how seriously we take our ingredients. Housed in a dedicated section of the protein bakery, you'll find carefully marked, hand sourced ingredients prepped and waiting to begin their journey. From sourcing & selecting and from baking to tasting, we hand hold each ingredient throughout its ride to nutritionally baked heaven. And as all stories begin and end with the finest ingredients, it's easy to understand why they're handled with so much care. It therefore comes as no surprise to hear we know all our suppliers like they're old friends. We source globally to get the very best – take our Pink Himalayan Salt Crystals as an example of that and we only use the finest European Whey Protein in all our products. Put simply, you can't cut corners on ingredients and deliver exceptional nutrition & flavour to customers.
When you wrap your mind around this philosophy it all clicks - it's this obsession with ingredients that lights up those aromas as you walk through the protein bakery doors. It's why the experience would leave the world's leading bakers weak at the knees and set the hearts of sports nutritionists pounding. It's a world where fine baking ingredients like reduced sugar cocoa powder meet fat burning powerhouses like Acetyl L-Carnitine… We know… it shouldn't be possible, but, we made it so..
Handcrafting The Future.
''Hand crafted' is a phrase thrown around in Sports Nutrition and snacking in general. Many say it, but few actually do it. Why? Well hand crafting snacks takes time, and when you're one of the big boys, taking time over things reduces volume, and profits. Hand crafting means you can't bang stuff out and move on. And this is exactly why we do hand craft. Because taking time, using the finest ingredients and hand making, means that we make the best protein snacks on the market. It also means that we don't produce at scale for profit alone. This is why you may hear some say our Protein Bakes are rarely always fully stocked – and that's fine by us. It's a philosophy that keeps us honest and it keeps our bakes fresh for you.
So, walking from our ingredients bay to the craft area of the room you get to watch each and every single nutritional bake finished by hand. Yep, that's right, over 100,000 protein snacks a month, shipped around the world and all hand crafted by our highly skilled team of Cheshire based bakers. By combining all the latest scientific research with traditional baking techniques, we can bring you the most insane tasting protein snacks, deliver unbelievable taste & texture, and pack in nutritional values that look down on most snacks you'll have experienced. Every step, from making our unique mixtures, portioning to the nearest micrometre (millimetres isn't accurate enough here) through to finishing with our taste-bud tingling chocolate glaze, every step is done by hand, no robots, no computer screens.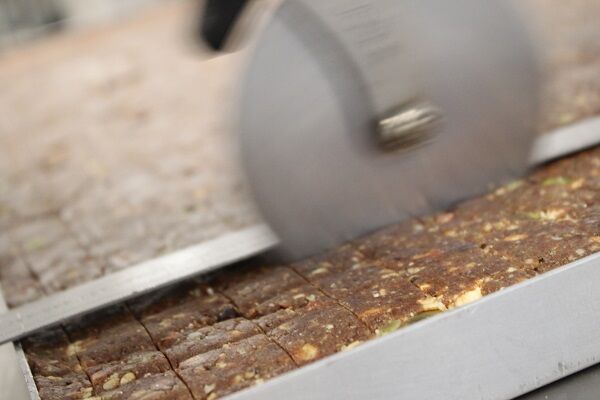 Dedicated To Innovation.
You don't create a hall of fame roll call of protein bakery game changers without having an all-star team of nutritional geniuses. With enough baking knowledge to waltz The Bake Off and more nutritional insights than an Olympic training committee, our team are everything you can imagine in a recipe for success. So, it's not uncommon to feel like a ghost when you walk round the room. Why? Well, these baking beasts are 100% motivated to deliver insane tasting, macro winning treats. They're forever, tweaking, testing and improving our range of protein powered goodies. So a visit from a mere marketing mortal isn't big news for a team that's responsible for creating the original world of protein snacking and making over thousands of hand bakes every month. Innovations from Protein Brownies to Protein Nutties™, all the way through to our record breaking Superfood Bites, are a culmination of 1000's of hours of dedication towards this team's mission to create insane tasting snacks that provide genuinely exceptional nutritional profiles… it's a good job we're treated like ghosts, as it's not a mission we want to get in the way of!
Heading out of the Protein Bakery never fails to leave you in awe. When we began in 2012 it was from very humble roots, dreams of breaking into the sports nutrition market and changing it for the better drove us forward and burned the midnight oil clean out. So, to watch the sum and substance, of what to most was considered a 'dare' when we collided the worlds of Artisan Baking and Sports Nutrition, come to life - it's a proud moment and something the entire TPW™ team gleam about. It's at this point we bid your journey into the original protein bakery adieu, however we're struggling with a mouth full of Superfood bites and hands balancing a stash of fresh baked Bakery Boxes … Chao!