Loaded Nuts - Brownie Deep Choc Dive
Loaded Nuts - Brownie Deep Choc Dive
"it's the texture of this that is the best bit - then the chunkie parts are such a surprise and delight!"Amiee

The finest roasted peanuts, premium dark chocolate, delicious brownie pieces and that TPW magic. A source of protein, high in healthy monounsaturated fats and 100% free from palm oil. Armbands off and time to DEEP CHOC DIVE into the ultimate peanut butter
"it's the texture of this that is the best bit - then the chunkie parts are such a surprise and delight!"Amiee


The finest roasted peanuts, premium dark chocolate, delicious brownie pieces and that TPW magic. A source of protein, high in healthy monounsaturated fats and 100% free from palm oil. Armbands off and time to DEEP CHOC DIVE into the ultimate peanut butter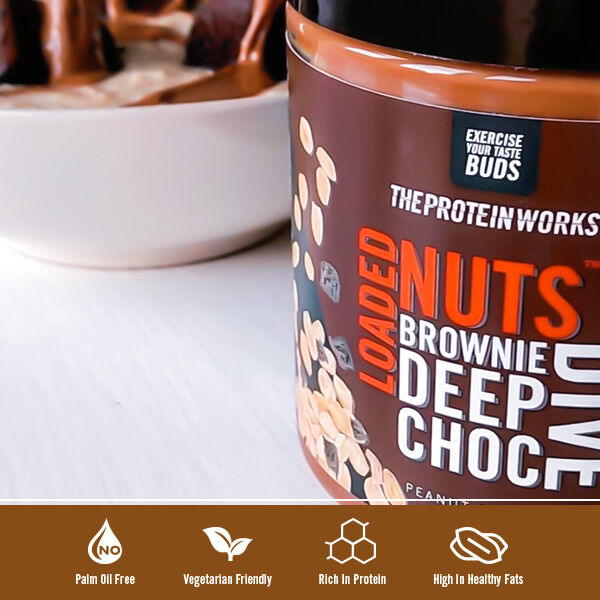 Spread IT With Loaded Nuts
Let's take a dive (pun absolutely intended) and look under the lid of this instant classic. At its core, are perfectly roasted nuts, rich in healthy fats and fibre they provide more than just macros, their creamy texture is at the heart of each of these nut butter imaginations. Next, it's the all important chocolate. For this we infused 3 chocolate layers into one perfect blend. 54% real dark chocolate, brownie pieces and a generous dusting of cocoa powder are all combined to create a blend that delivers an unrivalled level of chocolateliness (is that a word?!) that will have you grinning from ear to ear. We're not finished there though, the next addition was a pinch of Himalayan Pink Salt, one of the most mineral dense salts on earth with over 84 trace mineral elements packed in. The end result is Loaded Nuts™ gives you an unbelievable melt in the mouth texture.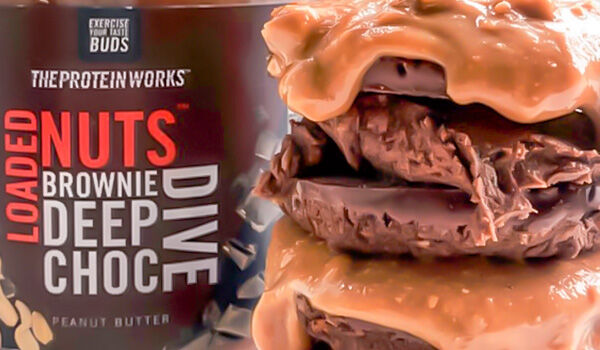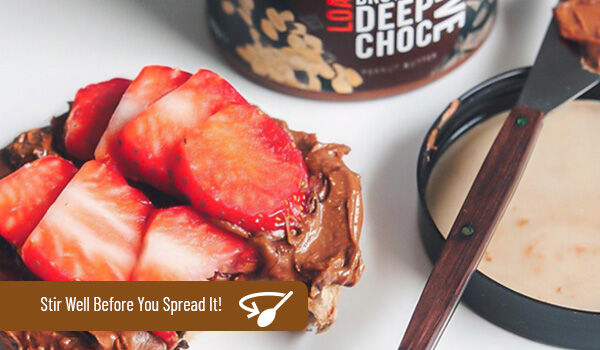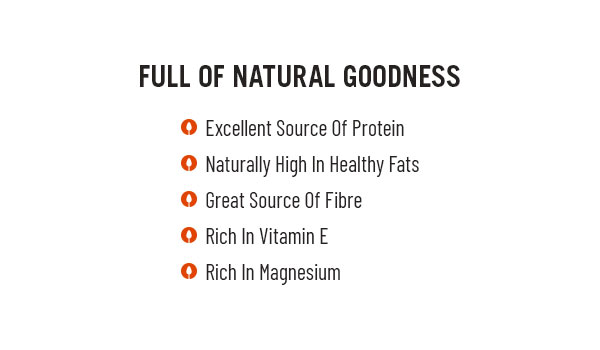 Super Premium Nut Butter
We've taken the Ben & Jerry's® super premium ice-cream concept that we all know and love and applied it to peanut butter. Each tub of Loaded Nuts is crammed full of treat pieces wrapped up in delicious organic peanut butter to create unique flavour combinations that will have you grabbing for a spoon at all times of day and night. By the way, it's massively healthier for you than ice-cream as well!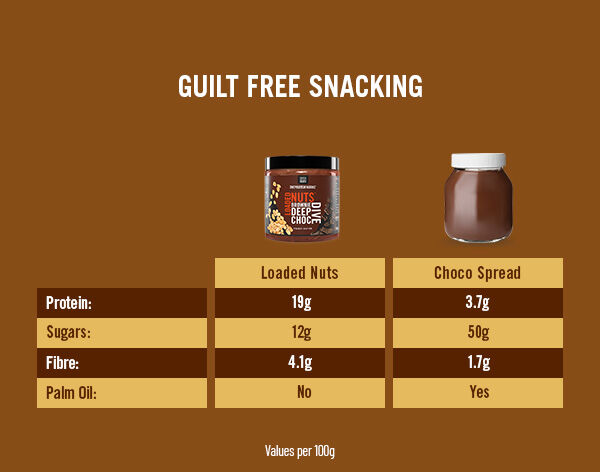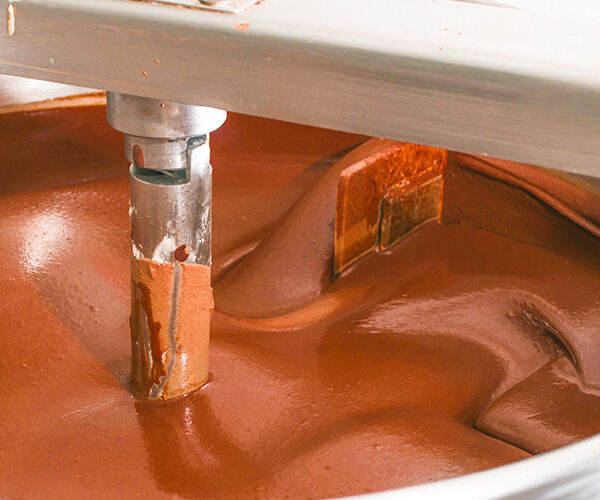 Come Inside The Nuttery
Nearly every nut butter you've ever eaten in your life will have been produced by a third party manufacturer. That's a faceless, hidden away factory that has no connection with the brand you are buying it from, other than a contract. We don't think that's right. It's not transparent. It means product quality has to be reduced so every part of the supply chain can get their piece of profit. For us, it's just not the way we roll.
At Protein Works, things are a little different. We are so passionate about what we do and we love to challenge the establishment. So we built our own peanut butter innovation and production facility right here in Cheshire, called The Nuttery. We do everything. Our talented team of nutritionists and chefs, create every Loaded Nuts™ from raw idea to finished pot, with an amazing focus on the finest quality ingredients and the most incredible taste. Put simply, you're getting the real deal.
World Champion Peanuts
We source only the finest peanuts from South America because we believe they are best on the planet. They are high-oleic peanuts and score very high on all key nutritionals. They taste amazing with a unique caramelly taste and work perfectly with the indulgent creations that make up the Loaded Nuts range.
Our peanuts are cultivated by means of natural selection and 100% GMO Free. They are roasted in their skins with absolutely nothing added, making them as natural and as pure as you can possibly get.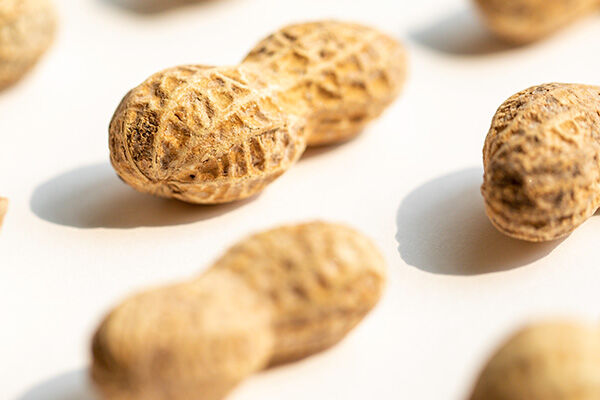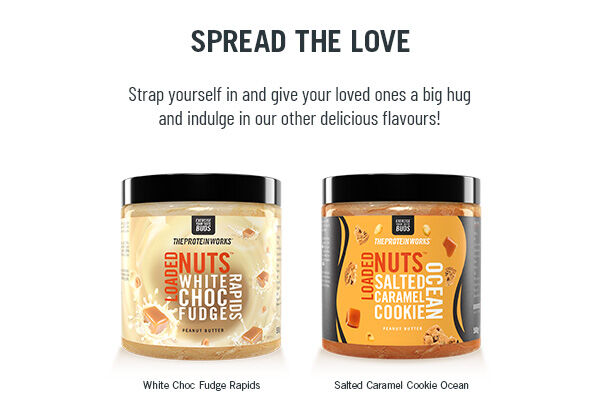 Peanut Butter Insights
These charismatic peanuts are not a nut at all. They're actually a legume and part of the same family as peas and lentils. They like to be different to "normal" nuts and grow upright inside a pod that grows underground, with one to four seeds per shell. However, always check carefully for nut allergies, as many people can have an allergic reaction to peanuts, just like any other nuts.
The Awesomeness Of Peanuts
Nutritionally, peanuts pack a huge punch. Loaded with healthy monounsaturated fats, they are ideal for helping lower cholesterol, plus they are rich in vitamin E which contributes to the protection of cells from oxidative stress. They are also rich in magnesium which plays a role in the process of cell division and contributes to the maintenance of normal bones, teeth and protein synthesis.
* Disclaimer: Customer reviews are independent and based on personal experience. Individual results may vary. Products designed to be taken in conjunction with a balanced diet and training plan. Nutritional Information per serving based on unflavoured.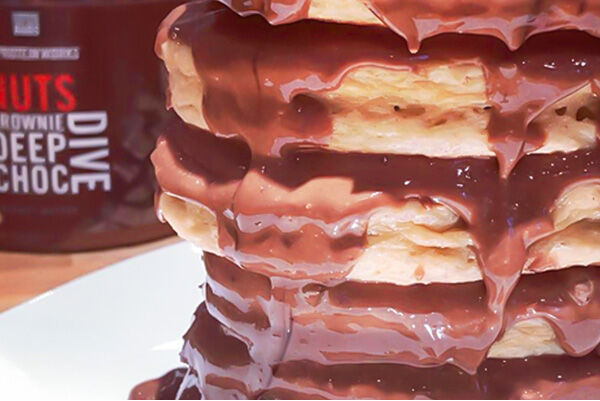 Read more
There are no nutritional values for this product
Ingredients
Brownie Deep Choc Dive
Allergens - See below ingredients in ORANGE

Peanuts

(68%), Dark Chocolate (20%) [Cocoa Mass, Sugar, Cocoa Butter, Emulsifier (

Soy

Lecithin) Natural Vanilla Flavouring], Rapeseed Oil, Brownie Pieces (3.5%) [Whole Hens

Egg

, Sugar,

Wheat

Flour, Sweetcream Butter With Added Salt (

Milk

), Fat Reduced Cocoa Powder, Demerara Sugar, Cornflour, Salt, Raising Agent (Bicarbonate Of Soda)], Himalayan Pink Crystal Salt
Loaded Nuts™ is incredibly versatile, you can consume it on its own as a tasty treat to curb cravings, add a spoonful to your protein shake for an extra boost, use in recipes or simply spread on just about anything!
UK Delivery

From £3.99 | Free Delivery From £50 | Order by 9pm for Next Day Delivery Read More

International

From €6.99 | Ship to Over 200 Countries | Order by 5pm for 48 Hour Service (Mon-Fri) European Delivery Rates


Returns

Lifetime Guarantee on This Product Read More
Q. What is Loaded Nuts made from?
A. Loaded Nuts™ is a flavoured nut butter, made with roasted peanuts, chocolate brownie pieces or salted caramel cookie pieces, cacao powder, himalayan pink salt, all blended together to create a nut butter based bombshell.
Q. When should I eat Loaded Nuts™
A. Any time of day, just a grab a spoon and get dunking.
Q. Are Loaded Nuts™ suitable for Vegetarians or Vegans?
Loaded Nuts are suitable for Vegetarians, however they are not suitable for Vegans
Q. Can I mix my Loaded Nuts™ with other things?
Yes, 100%. Loaded Nuts is the perfect partner for any of your favourite snacks be it on toast, pancake or just straight out of the tub with a spoon, we won't judge!