Total Mass Matrix Extreme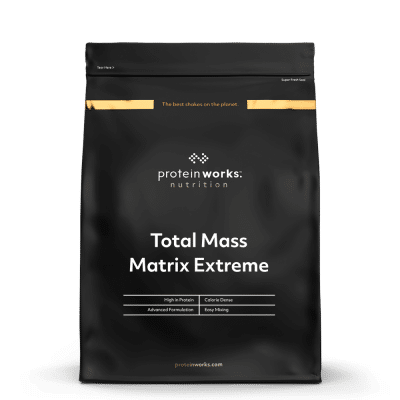 Total Mass Matrix Extreme
Total Mass Matrix Extreme is the most calorie and nutrient dense weight gain formula to leave the Protein Works Laboratory. Containing a tri-protein blend that delivers over 55g of protein and about 1,000 calories per serving, Total Mass Matrix Extreme is designed to contribute to a growth in muscle mass.
Total Mass Matrix Extreme has also been enhanced with premium grade single extract ingredients and amino acids. This includes a multi-source creatine blend, L Glutamine, a Vitamin B Vitablend, Super Grains and the much publicised healthy fat Medium Chain Triglycerides. Total Mass Matrix Extreme is ideal for anyone looking to add serious mass.
In excess of 1000 calories per serving
Unique tri-blend with 55g per serving
The ultimate weight gainer formula
"Absolute beast of a mass gainer! If you are looking to seriously bulk up then you wont go far wrong with this. Great flavours too!" - *Craig

Total Mass Matrix Extreme contains a cutting-edge tri-protein blend that delivers 53g of protein and up to a colossal 966* calories per serving.

Its Extreme formulation sets a new standard in next level mass gainers through the inclusion of a potent vitamin and mineral blend, glutamine, and 5g of creatine.

Used in conjunction with a weight training program, our most comprehensive gainer is designed to promote an increase in muscle mass and fuel your body through the most intense of workouts.