Take your breakfast game to the next level with our incredible new innovation - Loaded Protein Pancakes. Light and fluffy, bursting with real pieces of fruit and indulgent chocolate; our Loaded Protein Pancakes make the perfect healthy breakfast or snack that tastes incredible and fills you up!

Our Loaded Protein Pancakes are packed with over 20g of protein and contain less than 3g of fat per serving! These pancakes don't just taste delicious, but also provide you with a slow, sustained release of energy, are low in sugar and deliver a delicious boost of protein to help towards your daily goal.

Not only are our Loaded Protein Pancakes the best tasting protein pancakes on the market; they are made using our innovative tri-protein blend of whey, milk and egg proteins, to deliver a high-protein and wholesome meal - all in under 210 calories per serving!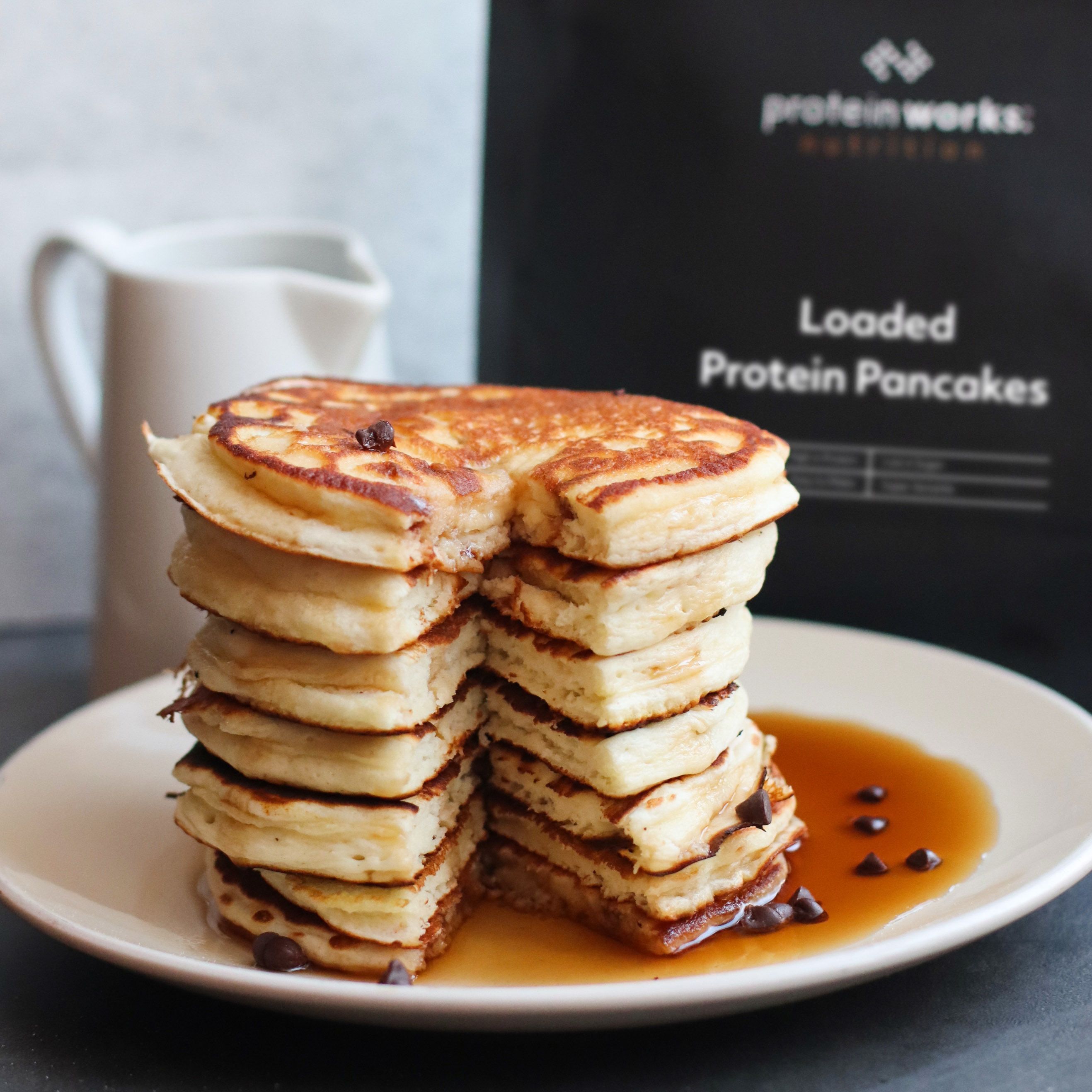 What Are Loaded Protein Pancakes?
Not all protein pancakes are created equally, in fact many of the protein pancakes on the market today are tasteless, rubbery and dry. We wanted to create protein pancakes that taste just as good (if not better!) than 'regular' pancakes, while still providing the same health benefits of a high protein alternative.
Our deliciously light and fluffy Loaded Protein Pancakes are now available in a mouth-watering range of dessert-like flavours; enriched with real pieces of fruit and indulgent chocolate that melt in the mouth!
Our Loaded Protein Pancake mix couldn't be easier to prepare and is a super-simple way to prepare delicious, protein-rich pancakes in a matter of minutes! Convenience aside, their nutritional credentials stack up significantly better than your standard stack of pancakes with a whopping 4 times more protein and 8 times less sugar! Making them a perfect addition to any healthy diet, whatever your goal!
How To Prepare Loaded Protein Pancake Mix?
1. To create the Loaded Protein Pancake batter, simply add two large scoops (55g) of the pancake mix to 150ml of milk or water, mix lightly with a fork being careful not to overmix (the batter should still have a few lumps in it). Leave to rest for 1-2 minutes.
2. Gently heat a non-stick pan with a light coating of coconut oil to you pan over a moderate heat until the oil is melted. Once the pan is warm, add 2 tablespoons of the batter into the pan, repeating to form 3 round pancakes in the pan.
3. Cook the pancakes gently for one and a half minutes until the pancakes begin to 'fluff' up, then flip them over and cook for a further one minute until golden brown on both sides. Stack up and serve immediately - enjoy!
Tip: While our loaded pancakes are packed with delicious ingredients, why not take them up another notch by adding a drizzle of our Zero Syrup! Available in a variety of flavours, with 0 calories and 0 sugar – what more could you ask for?!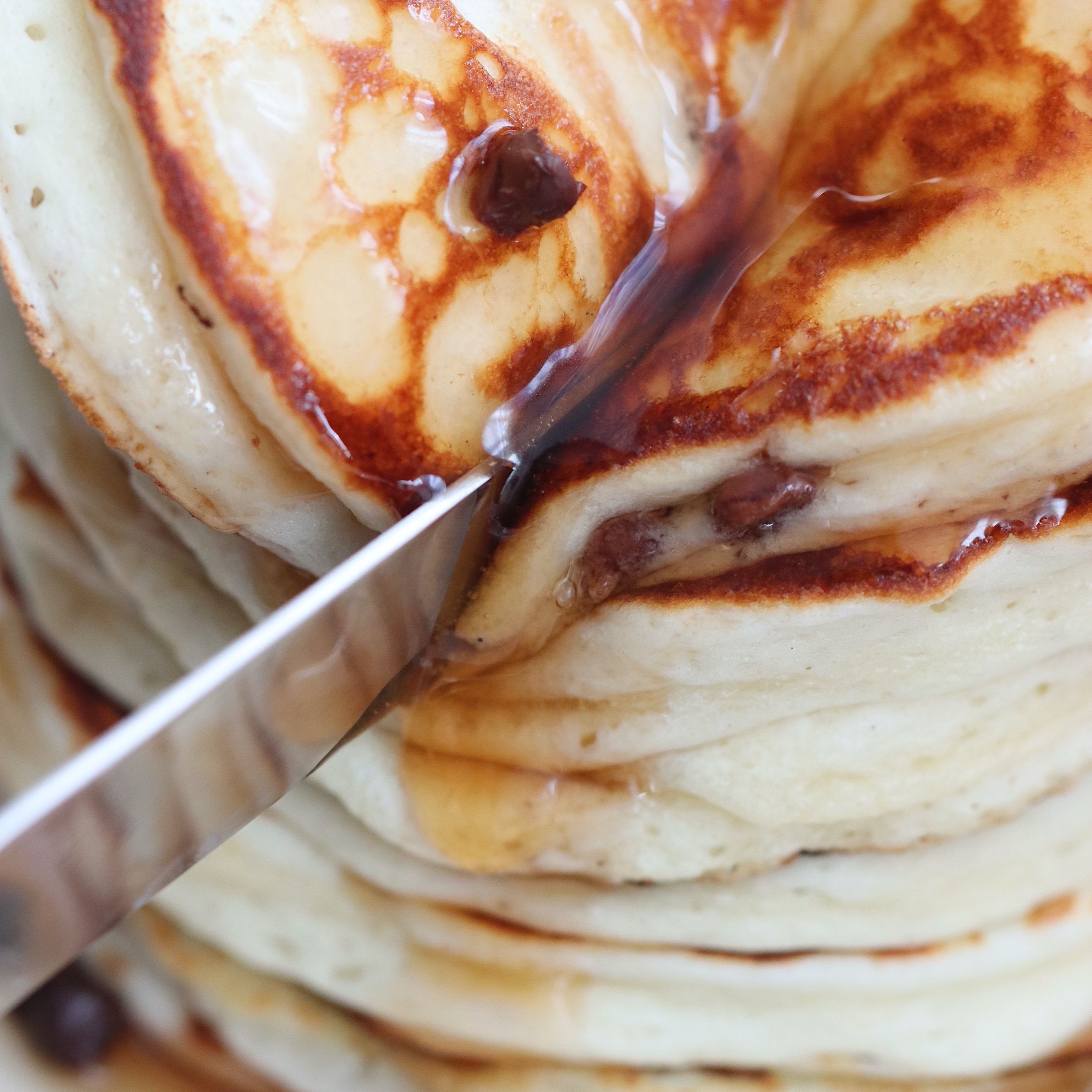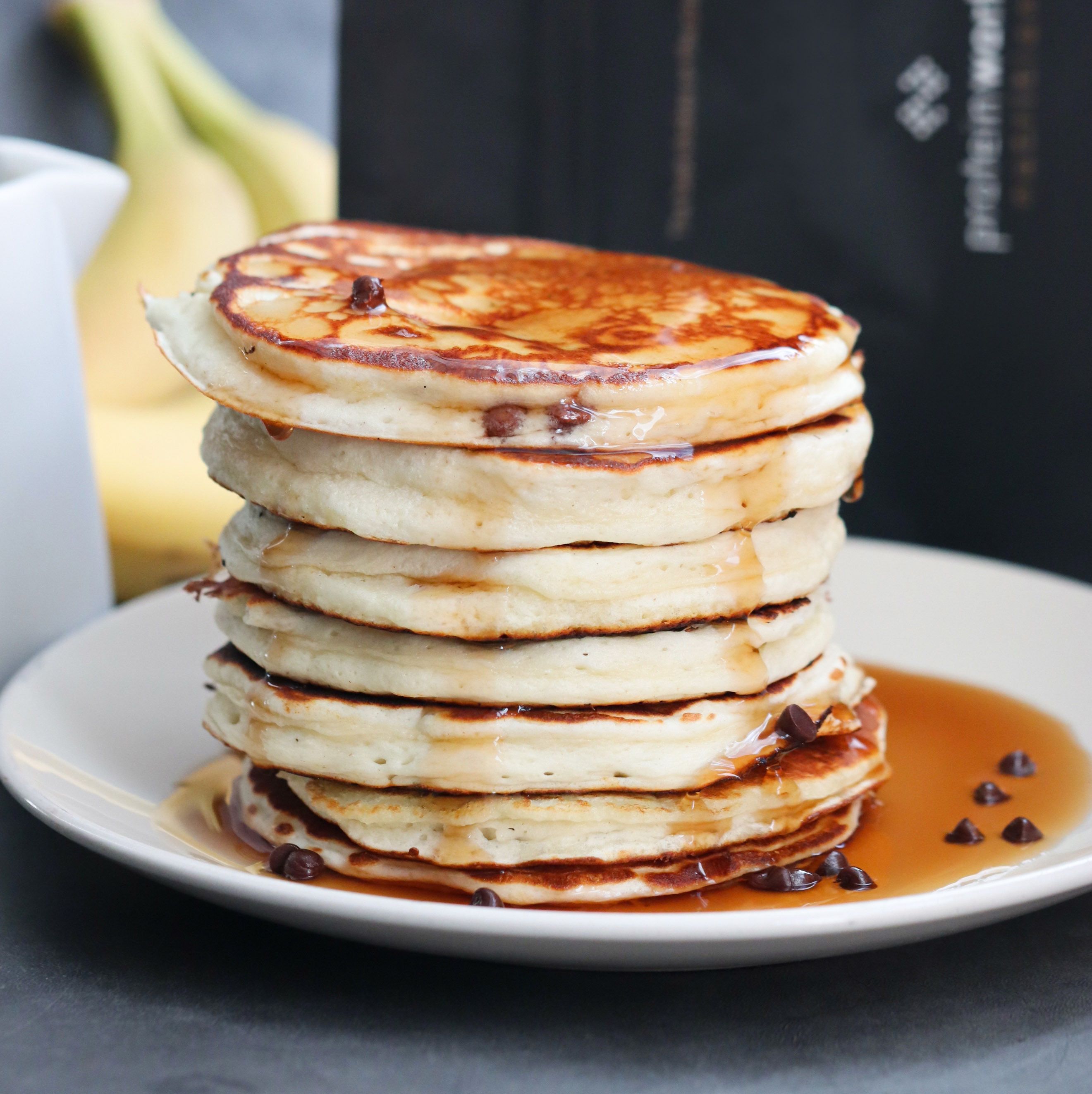 What Are The Benefits Of Loaded Protein Pancake Mix?
Arguably one of the most 'Instagrammable' breakfasts around; pancakes don't have to be off the menu when following a healthy diet! It's time to forget food envy and whip up your own deliciously light and fluffy stack of Loaded Protein Pancakes, made all the more delicious with the addition of little pieces of real chocolate or fruit, and better still – they're good for you!
We set out to create the best tasting Protein pancakes available on the market today so taste and texture were a priority. We created a range of mouth-watering flavours and added inclusions of real pieces of chocolate and fruity chunks to make our Loaded Pancakes all the more indulgent.
Never wanting to compromise on nutrition, we made Loaded Protein Pancakes using our innovative tri-protein blend; featuring premium grade Whey, Milk and Egg protein powders to create a great tasting and high quality blend to help you towards your protein goal.
As two of these protein sources are from milk, this means our Loaded protein Pancakes are a great source of calcium too, which helps to contribute to the maintenance of normal teeth, bones and muscle function.
Carbohydrates from the wheat flour base provides you with a steady release of energy in the morning to keep you going until your next meal.
Who Are Loaded Protein Pancakes Suitable For?
Loaded Protein Pancakes are ideal for anybody following a diet that includes dairy proteins. Whether your goal is weight loss, muscle gain, or simply wanting to increase your protein intake with a healthy breakfast or snack – Loaded Protein Pancakes deliver a nutritious and tasty meal that can help you towards your goal and daily protein intake.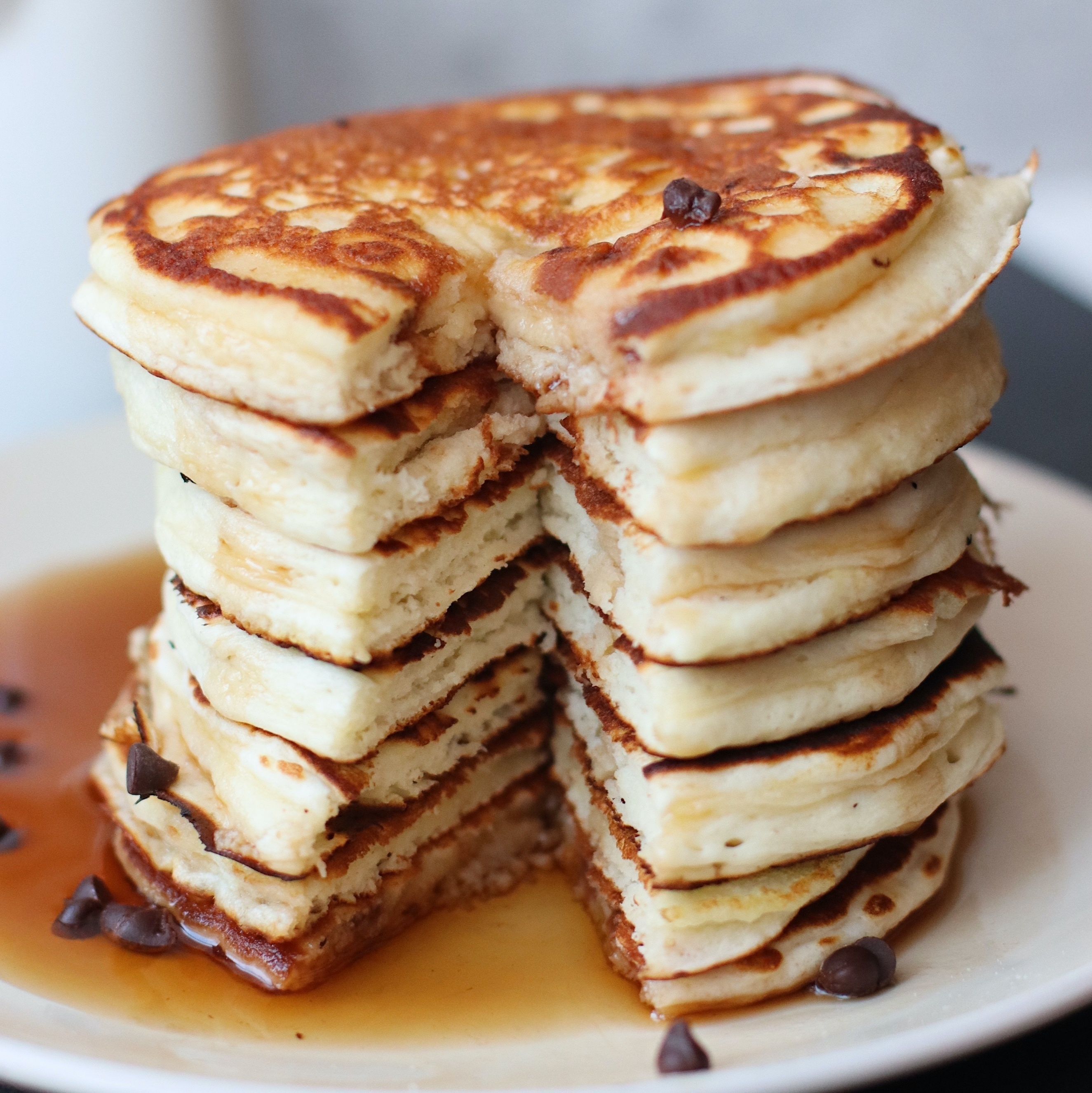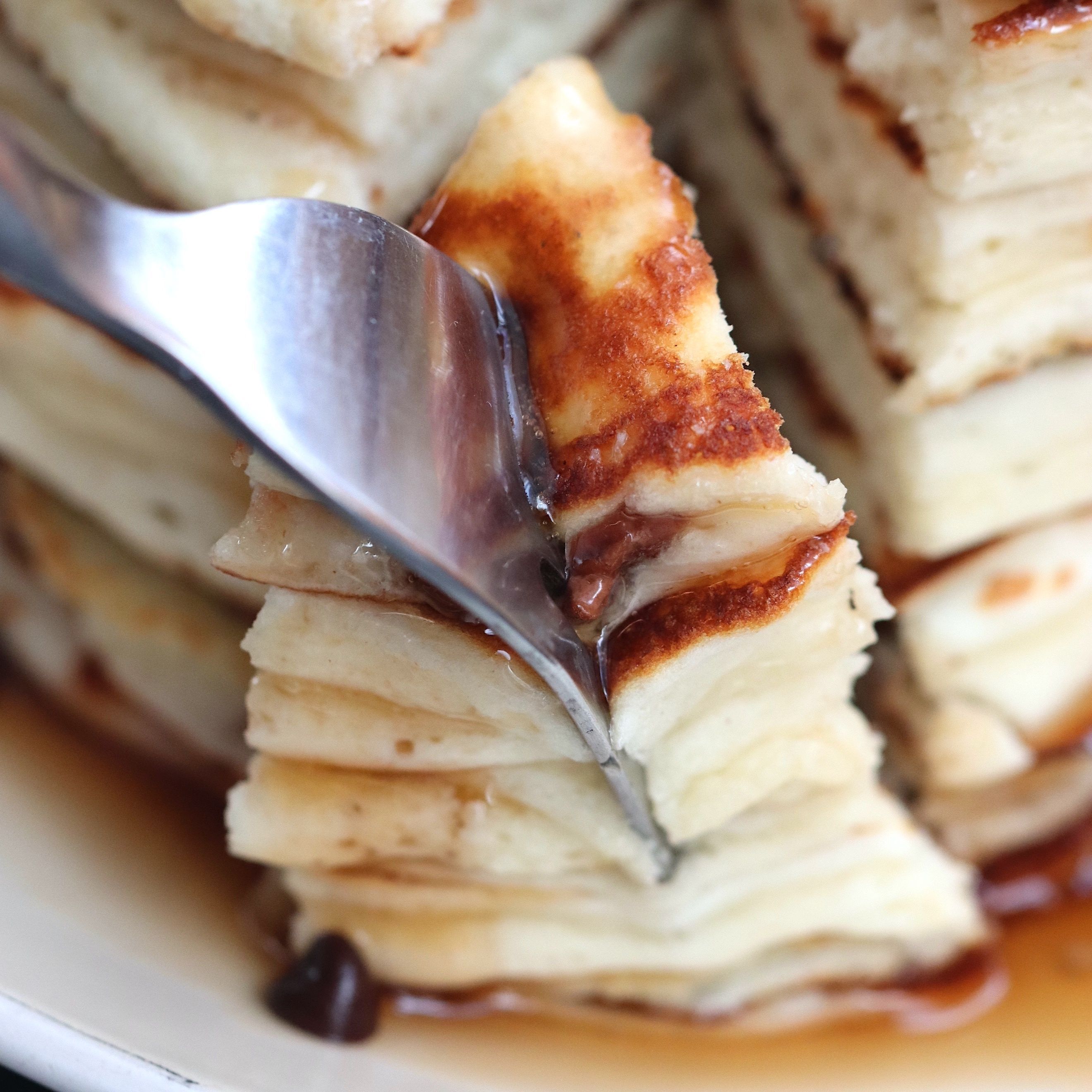 Why Buy Loaded Protein Pancake Mix?
Following the huge success of our original Protein Pancakes Mix, we wanted to take the ever-popular pancake to a whole new level.
We know it can be a challenge to stick to a healthy diet without feeling like you're missing out. However, healthy food doesn't have to be boring! We pride ourselves on delivering incredible tasting options that taste like a treat with zero guilt - and our Loaded Pancakes are no exception! Available in a mouth-watering range of dessert-like flavours such as Cookies n Cream, Banana Choc Chip, Summer Berries, Double Choc Peanut and Original – there's something for everybody!
Whether you eat them every day or save them for a weekend treat; our Loaded Pancakes never fail to hit the spot and provide you with the feel-good fuel you need to achieve your goals!
…And let's be honest; who doesn't love pancakes?!
* Disclaimer: Customer reviews are independent and based on personal experience. Individual results may vary. Products designed to be taken in conjunction with a balanced diet and training plan. Nutritional Information per serving based on Natural.
Please Note: flavour imagery is only a serving suggestion and for illustration purposes. It does not represent actual flavour ingredients.