Whey Protein 80 (Concentrate)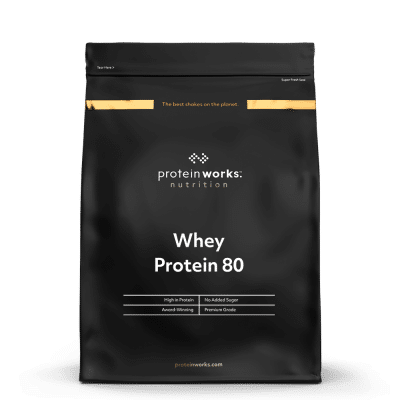 Whey Protein 80 (Concentrate)
Whey Protein 80 is our award-winning premium grade whey protein concentrate. Winner of the highly coveted, "Best Protein Award" in the industry-leading FSN Product Awards, Protein Works whey protein is known for its exceptional purity. It contains no thickeners or fillers and is available in a wide range of exclusive premium flavours. Whey Protein 80 is undenatured and has the highest biological value (BV) of any known protein.
Whey Protein 80 is made from the very finest whey protein concentrate with over 80% protein content. It is micro-filtered and not heat treated to produce an ultra pure protein. Whey Protein 80 is also formulated with ground-breaking patented enzyme technology AMINOGEN®, setting it apart in the world of whey protein formulas.
"Hands down the best protein powder I've ever tried. Mixes well and tastes even better!" - Matt*

Winner of the coveted "Best Protein Award", Whey Protein 80 is the gold standard in premium protein shakes, made simply with 100% pure whey protein concentrate.

Its five-star rating comes from its ultra-smooth texture, huge range of flavours and instant mixing. You're guaranteed zero after-taste, zero grittiness and a smooth and creamy texture.

A single serving of Whey Protein 80 contains up to a massive 80% protein and has no added sugar. It's the ultimate protein shake to boost your protein intake any time of day.