WHEY PROTEIN 80 (concentrate)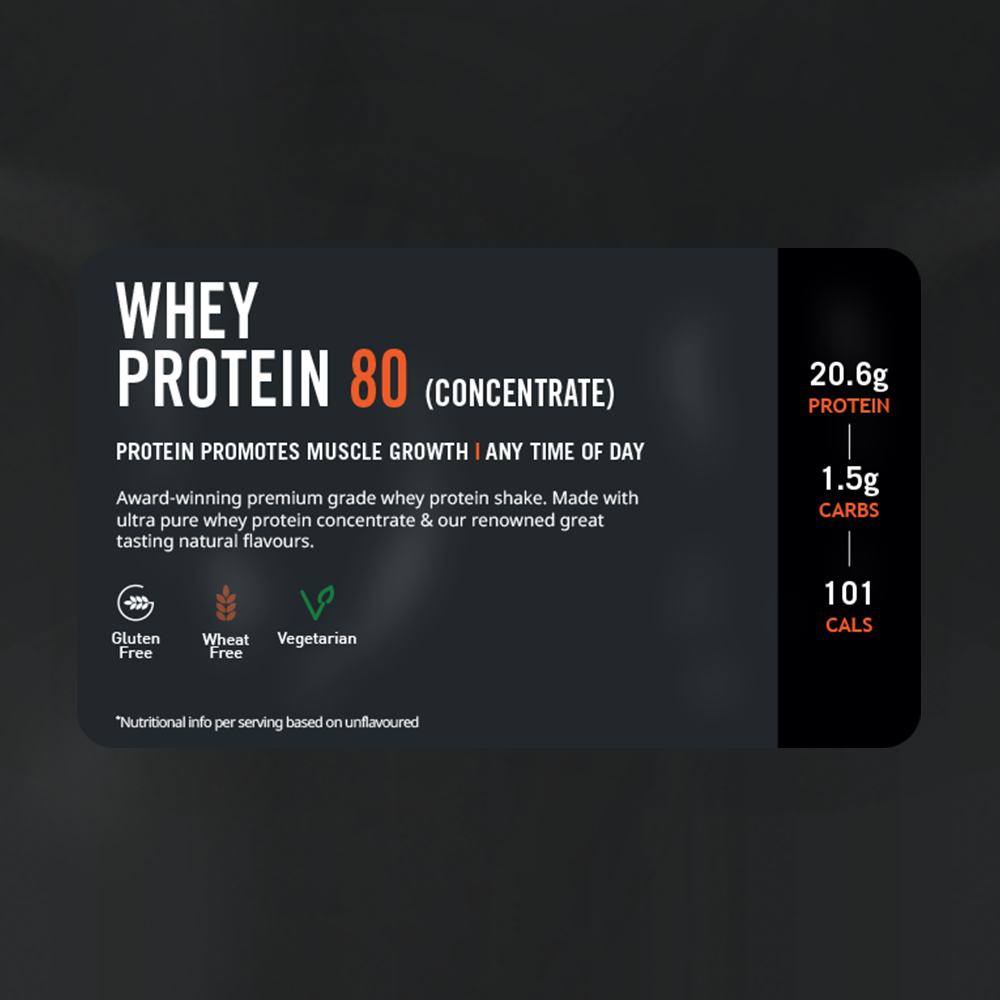 Nutritional Insights
20.6
protein
Per Serving (g)
Product Highlights
Pure Whey
Protein
Award
Winning
Supports
Muscle
Growth
Free From
Gluten Free
Wheat Free
Want it Tomorrow 25 Apr?
Order within 16h 38m 54s and it'll leave us today!
Why you love it...
"I'm totally in love with this whey protein! All flavours are fantastic. Best protein I have ever tried!" - Noemi*
Why we love it...
Whey Protein 80 is our award-winning whey protein concentrate. Winner of the highly coveted "Best Protein Award" in the FSN Product Awards, TPW™ whey protein is available in a wide range of exclusive natural flavours and is known for its exceptional purity. For best results, we recommend coupling your Whey Protein 80 with
BCAA
or
Creatine Monohydrate
!
25% OFF! - *SPECIAL OFFER!*
CODE: SHRED25
*Code Valid on Orders Over £10 After Discounts
Frequently Bought With...
Top Picks
What is Whey Protein Concentrate?
Whey Protein 80 is our award-winning premium grade whey protein concentrate. Winner of the highly coveted, "Best Protein Award" in the industry-leading FSN Product Awards, TPW™ whey protein is known for its exceptional purity. Available in a wide range of exclusive natural flavours Whey Protein 80 is undenatured and has the highest biological value (BV) of any known protein. Whey Protein 80 is made from the very finest whey protein concentrate with over 80% protein content. It is micro-filtered and not heat treated to produce an ultra-pure protein.
Want to try out the very latest in cutting-edge protein shake flavours? Then try our brand new whey protein concentrate formula - WHEY PROTEIN 360. It will blow your little cotton socks off, you've been warned!
What Makes TPW™ Whey the Best Protein?
Whey Protein 80 is THE PROTEIN WORKS™ premium version of the world's most popular form of protein shake. The sum and substance of thousands of studies and tests, Whey Protein 80 is renowned for its unrivalled quality. As far back as 1955 the British Journal of Nutrition found it has a biological value (BV) even higher than the finest free-range eggs, chicken or beef. Which is why it's been labelled by the fitness media as, "The protein that changed protein." Why? In short, it's an award-winning product, made by an award-winning company, by an award-winning team. Sprinkle each and every pouch with our widely acclaimed 100% natural colours and flavours and consider the perfect whey protein shake complete. You simply won't find a better whey protein in terms of quality, value, flavour, mixability and protein and amino content.
Whey Protein 80 is award-winning. But what also separates it from others on the market is it's made from the very finest whey protein concentrate with over 80% protein content. It is micro-filtered and not heat treated to produce an ultra-pure protein.
When is the Best Time to Take Whey Protein Concentrate?
Whey protein powder is the most efficient protein for the human body. Research has shown that out of all the protein sources, whey protein is digested and more easily absorbed than any other protein. Protein has been used extensively for many years by athletes looking to build quality muscle mass and more recently, it has become a key part of supplement programmes for elite athletes and anyone undergoing intensive exercise or training. Whey protein powder, once mixed with water or milk, is also ideal for that "magic hour" post exercise.
How Much Whey Protein Do I Need?
Firstly, we must understand that protein has long been dubbed the "body's building blocks". Put simply what this means is it's a macronutrient used by our bodies to repair, recover and regrow. But it was research published in the The Journal of Sports Sciences that found, "A considerable amount of evidence during the past 15 years indicates that regular exercise does, in fact, increase protein needs." This is why anyone who leads an active lifestyle will need more protein than someone who is sedentary (and a stranger to the gym). Worth noting is how much is still debated today, but according to the same study, "Current evidence suggests that strength or speed athletes should consume about 1.2g to 1.7g."
What's the Best Flavour Whey Protein Shake?
Our best-selling whey protein shake is made from the finest premium grade whey protein personally selected by us for its ultra-pure properties. It is manufactured at our state of the art facility right here in the UK with our widely acclaimed all natural flavours and colours to create the finest quality whey protein shake. As we produce all our protein formulas ourselves, each whey protein offers the ultimate in freshness. Find out more about TPW™ All Natural Innovative Flavours.
How is Whey Protein Concentrate Made?
Produced in-house at our own state of the art facility in the UK, it offers unparalleled levels of protein purity and has been independently tested for the ultimate peace of mind. We don't make big claims about our products, we prefer to let customer ratings, reviews and feedback do the talking for us. We also offer an unprecedented LIFETIME GUARANTEE on every product you buy from The Protein Works™. Whey Protein 80 protein shake is supplied in a re-sealable foil pouch to ensure freshness and a FREE scoop is included in every product. Why not couple your Whey Protein 80 with BCAA or Creatine Monohydrate for that extra boost to your health and fitness regime?
* Disclaimer: Customer reviews are independent and based on personal experience. Individual results may vary. Products designed to be taken in conjunction with a balanced diet and training plan.
Love this whey - super smooth and super tasty!
I tried all the flavours (whey 360) in the little one serving bottles, a great way to sample them all.
Strawberries 'n' Cream is still the one for me - unless its the Vegan Protein, where Vanilla Creme comes out on top.
I have gone through a range of different protein powders, this has to be one of the best overall for its flavour and light easy mixing due to the quality of this protein, i find all of the flavours to be awesome, but the banana and choc mint are some of the best that are nice to consume on a daily basis without becoming sickly, this protein does not taste too overpowering or artificial like some others that i have tried prior to this. Help yourself to free protein samples with code: JM15339 This protein powder combines well with some instant oats and regular peanut butter if aiming to add lean muscle mass or with just water to keep caloric intake lowered for dieting or fat loss phases, as a more superior option to this protein powder i would recommend going for the whey protein 360 or a whey isolate if dieting to allow for a further reduction in calories. This is quite a versatile protein powder in that it can be used to make awesome tasting protein bars or cookies when combined with some peanut butter and oats if caloric intake is of no concern for mass gain or just vitafiber syrup if dieting and to allow for carbohydrate content to be kept lower.
Overall this gets 5/5 due to being an easy mixing clean tasting protein that is free from any added fillers or thickeners, this is easy to consume post workout without becoming sickly. If you are after the best flavour i would recommend the millionaires due to it tasting similar to galaxy chocolate just in a liquified form.
Mixes well and tastes great. Good range of flavours. Chocolate mint & butterscotch are delicious.
Used this protein a bunch of times, both flavoured and unflavoured, rivals any of the top brands but a fraction of the price, especially is you're using one of the codes TPW always have available.
This is the best protein powder I have ever used. I am a chocolate lover but have never found a shame that actually tastes like chocolate (always powdery) but this, well this stuff is lush. Mixes so smoothly with water or milk and the taste is amazing. So far I've tried smooth chocolate, cherry bakewell and strawberry n cream..all have been amazing. Just ordered apple cinnamon and millionaires shortbread..mmmmm
HIGHLY RECOMMEND!!!
Additional Information
| | |
| --- | --- |
| Values based on: | per 100g | 25g serving |
| Energy (kJ) | 1708 | 427 |
| Energy (kcal) | 404 | 101 |
| Fat (g) | 7.2 | 1.8 |
| of which Saturates (g) | 6.0 | 1.5 |
| Carbohydrates (g) | 4.0 | 1.0 |
| of which Sugars (g) | 4.0 | 1.0 |
| Fibre (g) | No |
| Protein (g) | 82.4 | 20.6 |
| Salt (g) | 0.5 | 0.13 |
| Cholesterol (mg) | No |
| Sodium (mg) | No |
| Calcium (mg) | No |
| Please Note: | No |
Ingredients
| | |
| --- | --- |
| Undenatured Whey Protein Concentrate (Milk) | |
| Emulsifier (Soya Lecithin) | |
| | |
| Allergens - See above Ingredients in ORANGE | |
Serving Size: 25g (one large 70ml scoop) of Whey Protein 80
We recommend between 3-5 servings per day of Whey Protein 80, depending upon your own individual needs. It is widely recommended that for optimal benefits, you should take 1 gram of protein per pound of body weight per day.
Add 150-225ml of water or milk into your TPW™ Master Blender. Add one large 70ml scoop (25g) of Whey Protein 80, mix well and drink.
The less liquid you use, the thicker your shake will be, so adjust to suit your own taste.
Typical Daily Usage of Whey Protein 80:
1 serving upon waking
1 serving 30-45 mins prior to exercise
1 serving immediately after exercise
1 serving between meals
1 serving before bed
Q. When should I take Whey Protein 80?
A. It depends on your lifestyle and goals, we recommend the following optimal serving times for Whey Protein 80: Immediately upon waking. 30 minutes pre workout and immediately after your workout. Before you go to bed. Any other time during the day when you require additional protein intake.
Q. How much Whey Protein 80 should I take?
A. It is recommended that you consume between 3-5 servings per day, dependent upon your own personal needs. A serving would be classed as 25g (one scoop) of whey protein concentrate. It is recommended that you take 1g of protein per pound of body weight, so adjust your intake accordingly.
Q. What is Aminogen® and why is it in Whey Protein 80?
A. Aminogen® is a revolutionary system that is plant-based and allergen free, demonstrating once again our commitment to developing the most advanced sports nutrition formulas on the market today.
Q. Is all whey protein concentrate the same, regardless of which brand it is?
A. As a customer, we believe it is not only your right to demand the best, but also that you know you're getting the best. It is very true to say that not all proteins are created equal! We are committed to transparency and openness in all our products and that is why we provide the following information on all our protein products: 1. Product Profile - a complete overview of the product's background including our approval, location of manufacture and money back guarantee applicability 2. Protein Insight - a complete breakdown of the types and quantities of protein contained in the product 3. Product Testing - an up to date certificate of analysis which provides independent verification of the protein content. If you don't buy from TPW™, we would urge you to demand this information from your current supplier. Simple as that!
Q. How can I tell if the protein I use is a good quality protein?
A. Keys signs to look for are the level of protein declared on the label. Look for whey protein concentrate with a minimum of 80%. Unflavoured, pure whey protein concentrate should be smooth with a neutral dairy taste. It should be easy to mix and with little froth. Of course the ultimate way to know is from the results you get from taking the product.
Q. Does your flavoured Whey Protein 80 contain artificial flavouring and colouring?
A. We like to keep things pure, so you won't have to worry about finding any artificial colours or flavours in any TPW™ products. That's not just marketing talk, that's a promise!
Q. Is Whey Protein 80 suitable for vegetarians and vegans ?
A. Whey Protein 80 is suitable for vegetarians, but not for vegans.
Q. Can I take Whey Protein 80 with other supplements?
A. Yes, no problem. We recommend you always check serving instructions on each product if you plan on taking a combination. Whey Protein 80 is most commonly taken with Creatine, Pure Fine Oats and BCAA.
Q. Can I take too much protein?
A. If you don't burn the excess calories that come with the additional protein, it may lead to increased body fat. No other side effects have been noted.
Q. How do I make the perfect whey protein shake with Whey Protein 80?
A. There are a few things to bear in mind if you are looking to make the perfect protein shake. First of all you need a quality protein like our Whey Protein 80. You will also need a decent blender rather than a shaker. We recommend the TPW™ Master Blender. Then pour your preferred amount of liquid into the blender. Bear in mind that milk will provide a creamier shake but water will avoid the extra fat that comes with milk. Next, drop one scoop of protein into the liquid, screw on the lid and shake well. It's not rocket science, but follow the basic principles and you'll be making great tasting shakes for years to come.
Q. How do I know how much Whey Protein 80 is in a protein blend or formula if it is not on the label along with other protein sources?
A. The truth is guys, you wont be able to tell! Some unscrupulous brands don't declare the protein breakdown of the protein types and quantities used in their products. Different types of protein cost different amounts and they can offer quite different levels of quality. Through "engineering" products, it is possible to achieve and declare a high level of protein on a label through using different types of protein and lower quality raw ingredients.If a protein product states a high protein content but is unbelievably cheap, then you should seriously question its credentials. We're one of the few brands in the UK that actually manufactures their products in-house so there isn't much we don't know about protein and sports supplements. In addition, we declare the amount of each protein contained in each TPW™ product. No bull, no smoke and mirrors, just TPW™ full transparency on what you're getting.
Q. What if any side effects will I get from taking Whey Protein 80?
A. We haven't heard of any nasty side effects from taking Whey Protein 80 other than maybe increased flatulence! Provided you don't have an allergy to dairy proteins or need to restrict dairy products for medical reasons, you should be fine. If you are allergic to dairy proteins, please consult your doctor prior to consuming any type of whey protein.
Q. Do any foods contain whey protein concentrate?
A. No, there are no foods that contain whey protein concentrate. There are many foods that contain high levels of protein, such as red meat, chicken, turkey, fish, eggs and cheese.
Q. What effects should I expect from taking Whey Protein 80 alongside my training regime?
A. Results vary depending on your diet, nutrition, training and individual body type.
Q. Who should take / benefit from using Whey Protein 80?
A. Bodybuilders and strength athletes / endurance athletes / those on a controlled weight loss diet / those new to weight training / people involved in team sports