WHEY PROTEIN 80 (concentrate)
Product Highlights
Pure Whey
Protein
Award
Winning
Supports
Muscle
Growth
Free From
Gluten Free
Wheat Free
Want it Tuesday 27 Aug?
Order within 8h 13m 3s and get on the next despatch!
Why you love it...
"Hands down the best protein powder I've ever tried. Mixes well and tastes even better!" - Matt*
Why we love it...
Winner of the coveted "Best Protein Award", Whey Protein 80 is the gold standard in premium protein shakes, made simply with 100% pure whey protein concentrate.

Its five star rating comes from its ultra smooth texture, insane range of flavours and instant mixing. You're guaranteed zero after-taste, zero grittiness and the closest thing to a real milkshake.

A single serving contains up to a massive 82% protein and is low in sugar, low in calories, low in fat and low in cholesterol. Its the ultimate protein shake to boost your protein intake any time of day.


NOW 30% OFF! - *SPECIAL OFFER!*
CODE: SALE30
*Code Valid on Orders Over £15 After Discounts
Frequently Bought With...
Performance Supplement
Amino Acid Powder
Protein Shake
Top Picks
What is Whey Protein 80?
Winner of the highly coveted 'Best Protein Award' in the industry leading FSN Awards, Whey Protein 80 is unrivalled in terms of quality and taste. This unique protein shakes has been developed without compromise using only the finest whey protein concentrate, delivering a massive 82% protein content - that's 20.6g of protein, 1.5g of carbohydrates and 101 calories per 25g serving. It's not by accident, it's known within TPW Towers as 'the mother of all proteins'.
Most protein shakes on the market today are produced by a faceless third party manufacturer, we are different. At TPW, we manufacture all our own protein shakes ourselves right here in the UK in our state-of-the-art production facility. This means we spend a lot of time perfecting every aspect of the product from taste to texture. The range of flavours available in Whey Protein 80 is designed to keep things fresh in your supplement cupboard. Our advice is find your absolute favourite and always have that at hand, but then mix it up with one or two quirky flavours. With so many to choose from, you should always have that "protein o'clock" feeling!
By the way, if you're still not convinced on Whey Protein 80, we recommend checking out Whey Protein 360, our best-selling protein shake which offers a multi-phased release system.
What are the benefits of whey protein 80?
The whey protein is processed at low temperatures to protect the protein fractions and ensure the protein remains in its un-denatured state. The result is a premium grade whey protein that is ideal for protein shakes as it delivers the highest possible nutritional value. Whey Protein 80 is high in BCAAs and low in fat and cholesterol, making it a healthy protein shake to consume any time of day. Amino acids are the building blocks of our muscles and naturally occur in protein and protein has been shown to contribute to the growth and maintenance of muscle mass.
Below are a few of the reasons why TPW Whey Protein 80 is award-winning...
Smooth Texture - our protein shakes are very similar to your favourite milkshake, smooth and moorish, say no more
Insane Flavours - it's what we're famous for in the sports nutrition world, our unique in-house Flavoury means we have the best tasting protein shakes, bar none
Zero After-taste - poorly formulated protein powder can leave a bad after-taste, through painstaking work by our team of nutritionists, you'll be smiling, not grimacing after every sip
Instant Mixability - low quality whey protein never mixes well, it's a red flag straight away, Whey Protein 80 just needs a light shake and you're 100% mixed
No Grittiness - let's face it, nobody wants a gritty shake and due to the purity of TPW ingredients, we guarantee 100% zero grit in your Whey Protein 80
Subtle Sweetness - most shakes are just too sweet after the first few sips, we keep things subtle so you can enjoy your shake time after time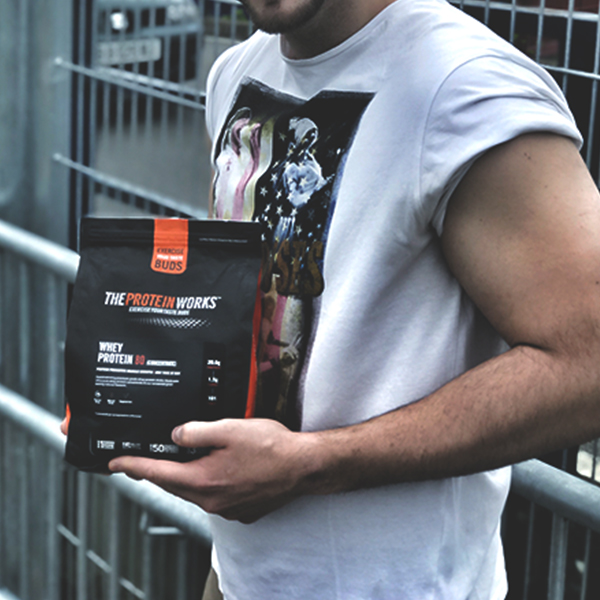 How Natural is Whey Protein 80?
Whey Protein 80 is as natural a food source as you could imagine and has been a staple part of elite athletes diets' for years. Harnessing the power of nature, our whey protein comes from the milk of open-air pasturing grass-fed cows. This provides the very finest protein as research has shown that grass-fed milk contains more linoleic acids and higher omega-3 fatty acids than milk from cows confined to indoor rearing.
TPW Whey Protein 80 provides the reassurance of being pure and natural...
Ultra Pure Recipe - Whey Protein 80 is made with only the finest whey protein concentrate
Sourced From Milk - whey protein is sourced from sweet cheese which is ultimately sourced from milk
Grass-Fed Cows - for optimal quality, our whey comes from field pastured, grass-fed cows
Zero Aspartame - we NEVER use aspartame in any of our products due to the negative research around it
Simply Mix with Milk or Water - it's entirely your choice, but all you need add is milk or water to create an amazing shake
When should I use whey protein 80 Powder?
Whey protein shakes can be consumed pretty much any time of day, although for optimal results we recommend consuming within one hour of your workout. This is known as the "golden hour" when your body and muscles are starting to repair. Recovery in any sport is key to performance. The incredible properties of Whey Protein 80 mean it can be taken at any time that works for you to boost your protein intake and prevent you diving for the chocolate box!
We often get asked 'If I haven't taken my protein shake after working out, will I lose my gains?' and the answer to that is no. Yes, your body does need an increase in protein and it will help you recover and gain quicker in the long run, but as long as you maintain your protein levels throughout the day consuming 3-5 servings your body will be able to store and use the protein when needed and help you achieve your dream physique.
Who is whey protein 80 Powder Suitable for?
Whey Protein 80 is suitable for everyone, for those wanting to build muscle mass or simply want a sweet drink or snack that packs a punch and is low in calories, low in lactose, low in sugar and low in cholesterol. It's therefore perfect for individuals on a calorie controlled diet. We'd always recommend using it in conjunction with a varied and balanced diet and a regular exercise routine.
What is the optimal amount of protein to consume?
For the physically active, it's advised to have 1.6 - 2.0g of protein per kg of body weight. ie. someone who weighs 80kg would need to aim to have 128g - 160g of protein per day. Splitting this up throughout the day is the best way to optimize your protein intake.
WHAT'S THE BEST FLAVOUR WHEY PROTEIN SHAKE?
Whey Protein 80 is made from the finest premium grade whey protein personally selected by us for its ultra-pure properties. It is manufactured at our state-of-the-art facility right here in the UK with our widely acclaimed flavours to create the finest quality whey protein shake. As we produce all our protein formulas ourselves, each whey protein offers the ultimate in freshness.
What is the optimal amount of protein to consume?
For the physically active, it's advised to have 1.6 - 2.0g of protein per kg of body weight. ie. someone who weighs 80kg would need to aim to have 128g - 160g of protein per day. Splitting this up throughout the day is the best way to optimize your protein intake.
How is Whey Protein Concentrate Made?
Produced in-house at our own state of the art facility in the UK, it offers unparalleled levels of protein purity and has been independently tested for the ultimate peace of mind. We don't make big claims about our products, we prefer to let customer ratings, reviews and feedback do the talking for us. We also offer an unprecedented LIFETIME GUARANTEE on every product you buy from The Protein Works™. Whey Protein 80 protein shake is supplied in a re-sealable foil pouch to ensure freshness and a FREE scoop is included in every product. Why not couple your Whey Protein 80 with BCAA or Creatine Monohydrate for that extra boost to your health and fitness regime?
* Disclaimer: Customer reviews are independent and based on personal experience. Individual results may vary. Products designed to be taken in conjunction with a balanced diet and training plan. Nutritional Information per serving based on unflavoured
A solid concentrate like this is a staple in any gym goers toolkit. I can vouch for the chocolate and vanilla flavours, a scope or two of this a day will go along way to helping you hit your protein intake goals.
Feel free to use my code TF334153 at checkout to get a free bag of protein. It helps me, and it helps you too!
Effective Base Protein Powder
Whey Protein works well as a base protein powder that i have used on and off for the past 8 years to allow for my high target protein requirements to be met to allow for me to keep making decent progress in building more lean muscle mass and gaining strength, this mixes very well with water and is one of the more refined whey concentrate based protein powders available that i recommend going for if you are new to protein powders and after something balanced that is well suited for consumption first thing in the morning and directly after your workouts due to it providing quite a fast rate of digestion. Hopefully This Review Was Of Benefit, For Free Protein Please Use My Referral Code: JM15339 at checkout. I have tried many of the available flavours and usually go for larger 4 kilogram bags due to consuming upto 120 grams of this protein per day during bulking phases to allow for my high target protein requirements to be met, the quality has remained consistent over the years and this does not include a range of fillers added to some other whey proteins which makes them less healthy in comparison to this for long term consumption. I like to mix this with water but oat milk is a great option to form nicer tasting protein shakes, i recommend trying the chocolate mint brownie and millionaires shortbread flavours as great choices which are pure and clean tasting allowing for them to be consumed on a regular basis without becoming boring.
I've had a lot of different protein powders over the years but this one tops them all. I ordered the chocolate silk flavour, Great Taste, Mixes well with regular shaker bottle, Good Macros. Much recommended I'll be buying more. You can use my referral code for free protein when you order. CR1374535
Whey protein 80 is by far the tastiest protein and mixes really well
*** Salted... Caramel... Bandit ***
Wow! I mean, I liked the last 2 flavours I've had (Banana Smooth & Choc Mint Brownie). Don't get me wrong. They're great.
But this is a home run over both of them!
Salted Caramel Bandit will not disappoint. Kinda Lotus Biscoff-ish.
Lovely
If you're new here, use my code for FREE protein with your first order!
1357933
Ingredients
| | |
| --- | --- |
| Undenatured Whey Protein Concentrate (Milk) | |
| Emulsifier (Soya Lecithin) | |
| | |
| Allergens - See above Ingredients in ORANGE | |
Serving Size: 25g (one large 70ml scoop) of Whey Protein 80
We recommend between 3-5 servings per day of Whey Protein 80, depending upon your own individual needs. It is widely recommended that for optimal benefits, you should take 1 gram of protein per pound of body weight per day.
Add 150-225ml of water or milk into your TPW™ Master Blender. Add one large 70ml scoop (25g) of Whey Protein 80, mix well and drink.
The less liquid you use, the thicker your shake will be, so adjust to suit your own taste.
Consumption Opportunities for Whey Protein 80:
- 1 serving upon waking
- 1 serving 30-45 mins prior to exercise
- 1 serving immediately after exercise
- 1 serving between meals
- 1 serving before bed
Related Products
If you're wanting to improve your physical performance in and outside the gym then sports nutrition could be the help you need. From Pre-Workout to help you feel energised, protein shakes such as Whey Protein Isolate can help you recover and Creatine Powders to give you power. THE PROTEIN WORKS has them all.
Q. When should I take Whey Protein 80?
A. It depends on your lifestyle and goals, we recommend the following optimal serving times for Whey Protein 80: Immediately upon waking. 30 minutes pre workout and immediately after your workout. Before you go to bed. Any other time during the day when you require additional protein intake.
Q. How much Whey Protein 80 should I take?
A. It is recommended that you consume between 3-5 servings per day, dependent upon your own personal needs. A serving would be classed as 25g (one scoop) of whey protein concentrate. It is recommended that you take 1g of protein per pound of body weight, so adjust your intake accordingly.
Q. Is all whey protein concentrate the same, regardless of which brand it is?
A. As a customer, we believe it is not only your right to demand the best, but also that you know you're getting the best. It is very true to say that not all proteins are created equal! We are committed to transparency and openness in all our products and that is why we provide the following information on all our protein products: 1. Product Profile - a complete overview of the product's background including our approval, location of manufacture and money back guarantee applicability 2. Protein Insight - a complete breakdown of the types and quantities of protein contained in the product
Q. How can I tell if the protein I use is a good quality protein?
A. Keys signs to look for are the level of protein declared on the label. Look for whey protein concentrate with a minimum of 80%. Unflavoured, pure whey protein concentrate should be smooth with a neutral dairy taste. It should be easy to mix and with little froth. Of course the ultimate way to know is from the results you get from taking the product.
Q. Does your flavoured Whey Protein 80 contain artificial colouring?
A. We like to keep things pure, so you won't have to worry about finding any artificial colours in any TPW™ products. That's not just marketing talk, that's a promise!
Q. Is Whey Protein 80 suitable for vegetarians and vegans ?
A. Whey Protein 80 is suitable for vegetarians, but not for vegans.
Q. Can I take Whey Protein 80 with other supplements?
A. Yes, no problem. We recommend you always check serving instructions on each product if you plan on taking a combination. Whey Protein 80 is most commonly taken with Creatine, Pure Fine Oats, BCAA and Glutamine.
Q. Can I take too much protein?
A. If you don't burn the excess calories that come with the additional protein, it may lead to increased body fat. No other side effects have been noted.
Q. How do I make the perfect whey protein shake with Whey Protein 80?
A. There are a few things to bear in mind if you are looking to make the perfect protein shake. First of all you need a quality protein like our Whey Protein 80 or a whey protein powder from our range. You will also need a decent blender rather than a shaker. We recommend the TPW™ Master Blender. Then pour your preferred amount of liquid into the blender. Bear in mind that milk will provide a creamier shake but water will avoid the extra fat that comes with milk. Next, drop one scoop of protein into the liquid, screw on the lid and shake well. It's not rocket science, but follow the basic principles and you'll be making great tasting shakes for years to come.
Q. How do I know how much Whey Protein 80 is in a protein blend or formula if it is not on the label along with other protein sources?
A. The truth is guys, you wont be able to tell! Some unscrupulous brands don't declare the protein breakdown of the protein types and quantities used in their products. Different types of protein cost different amounts and they can offer quite different levels of quality. Through "engineering" products, it is possible to achieve and declare a high level of protein on a label through using different types of protein and lower quality raw ingredients.If a protein product states a high protein content but is unbelievably cheap, then you should seriously question its credentials. We're one of the few brands in the UK that actually manufactures their products in-house so there isn't much we don't know about protein and sports supplements. In addition, we declare the amount of each protein contained in each TPW™ product. No bull, no smoke and mirrors, just TPW™ full transparency on what you're getting.
Q. What if any side effects will I get from taking Whey Protein 80?
A. We haven't heard of any nasty side effects from taking Whey Protein 80 other than maybe increased flatulence! Provided you don't have an allergy to dairy proteins or need to restrict dairy products for medical reasons, you should be fine. If you are allergic to dairy proteins, please consult your doctor prior to consuming any type of whey protein.
Q. Do any foods contain whey protein concentrate?
A. No, there are no foods that contain whey protein concentrate. There are many foods that contain high levels of protein, such as red meat, chicken, turkey, fish, eggs and cheese.
Q. What effects should I expect from taking Whey Protein 80 alongside my training regime?
A. Results vary depending on your diet, nutrition, training and individual body type.
Q. Who should take / benefit from using Whey Protein 80?
A. Bodybuilders and strength athletes / endurance athletes / those on a controlled weight loss diet / those new to weight training / people involved in team sports