Nutritional Insights
26.3
protein
Per Serving (g)
Dietary Info
Vegetarian
Vegan
Product Highlights
Renowned For
Flavour
Low in Fat &
Sugar
Muscle
Growth &
Repair
Free From
Dairy Free
Gluten Free
Lactose Free
Wheat Free
Want it Tomorrow 23 Oct?
Order within 16h 14m 12s and it'll leave us today!
Why you love it...
"WOW. I did not expect to like this so much….Love this product…Would defo recommend 10/10. Can't wait to try other flavours." - Aimee*

Why we love it...
Vegan Protein is made by vegan nutritionists for vegans. Its 100% natural, plant based recipe uses only the finest pure ingredients. Our best-selling vegan protein shake offers an earth-friendly, zero cruelty option for vegans.

Unlike other vegan shakes, Vegan Protein contains FIVE different protein sources - hemp, brown rice, sunflower, soy and pea. Each protein has its own unique nutritional profile, meaning you benefit from a more complete nutrient intake.

It contains no added sugar, is low in fat and has 25g of plant-based protein per serving. It is dairy-free, lactose-free, gluten free, wheat free and is available in a range of delicious flavours.
35% OFF! - *SPECIAL OFFER!*
CODE: FLASH35
*Code Valid on Orders Over £15
LIGHTNING DEAL | WHILST STOCKS LAST
Frequently Bought With...
Protein Snack
Vegan Protein Shake
Green Tea Extract
Top Picks
What is Vegan Protein Powder?
Vegan Protein from THE PROTEIN WORKS™ uses only the finest plant-based proteins selected by our nutritionists based on their nutritional content. Unlike other vegan protein shakes on the market today, it contains FIVE different protein sources to give you a far more comprehensive nutritional profile to help meet your vegan dietary needs
Vegan Protein is made by vegan nutritionists for vegans. It contains hemp protein, sunflower protein, pea protein, brown rice protein and soy protein. You can choose from a wide range of delicious flavours and have the peace of mind that you're making a positive decision for the planet and for yourself.
How does Vegan Protein Taste?
We only use premium GMO-Free ingredients to create vegan protein powders that mix easily in water or nut milk and taste incredible. All the shakes in our vegan range have a more natural taste than their dairy counterparts. They have a smooth texture, but mixing with a nut milk will help give an even creamier texture, if that's what you're looking for.
Is Vegan Protein Good for You?
Vegan Protein contains no added sugar and up to 26g of protein per serving. This combined with as little as 0.6g of fat and 0.2g of carbs, means its the ideal shake for anyone looking for a highly nutritious shake any time of day or night. You can consume on the go or to boost your protein intake when you feel you need it most.
It is of course vegan friendly, but it is also dairy free, gluten free, wheat free, and lactose free. It naturally includes an abundance of branched chain amino acids, arginine and lysine. As protein shakes go, this is one of the very best.
What are Vegan Protein Benefits?
Our vegan protein powder is scientifically formulated by our team of in-house nutritionists and is based on a wide range of plant-based research studies. Below we talk more about the key ingredients and some of the benefits they offer, specifically for anyone following a vegan diet:
• Hemp Protein - Hemp protein contains no allergens at all and a high concentrate of zinc, found to contribute towards normal protein synthesis, and the protection of cells from oxidative stress. It really was a no-brainer to add this to our Vegan Protein. It's also very high in natural protein, omega 3 and omega 6.
• Sunflower Protein - Sunflower Protein is a rich source of amino acids, protein, fibre, niacin, riboflavin and vitamin B6. The protein and fibre content can help support muscle maintenance and help with normal bowel functions. While the niacin contributes to normal energy-yielding metabolism and the Vitamin B6 helps with normal protein and glycogen metabolism as well as normal function of the immune system.
• Pea Protein Isolate - Pea Protein has the highest solubility of any protein and has been shown to contribute to the maintenance of muscle. It also contains a high percentage of vitamin K that helps the maintenance of normal bones and normal blood clotting.
• Brown Rice Protein - Brown Rice contains vitamin B6 shown to help energy-yielding metabolism, protein and glycogen metabolism and the reduction of tiredness and fatigue
• Soy Protein Isolate - Containing all nine essential amino acids, Soy Protein contributes towards the support of muscle and the maintenance of normal bones. It's also packed with vitamin B12 and magnesium. When you don't eat meat it can be hard to get these micro nutrients into your diet. Magnesium helps normal muscle function and B12 helps with psychological function, normal blood cell formation and contribution to the reduction of tiredness and fatigue.
Who is Vegan Protein for?
Vegan Protein is ideal for vegans or anyone looking to try a vegan diet. However, it can also be consumed by non-vegans who would like to make a positive personal choice for the environment and for their own bodies. It is a pure and natural protein powder that is high in protein, low in fat and low in carbohydrates. No matter what diet or body goal you're pursuing, Vegan Protein is a great option for anyone who enjoys keeping in shape and living a healthy lifestyle.
Why buy Vegan Protein?
This product is one of our FIVE STAR reviewed products and gives you peace of mind that it is consumer endorsed. It is available in a wide range of exciting flavours meaning you will never get bored. The current flavours include Choc Mint Brownie, Choc Peanut Cookie, Chocolate Silk, Cookies 'n' Cream, Millionaires Shortbread, Strawberries 'n' Cream, and Vanilla Creme.
• Vanilla Creme Vegan Protein Powder - pure and simple everytime, an absolute legendary taste bud party
• Chocolate Silk Vegan Protein Powder - delicious chocolate tones as smooth and velvety as we can make it
• Millionaire's Vegan Protein Powder - it's indulgent, it's caramel, it's chocolate, it's biscuity, it's one of our best
• Chocolate Mint Brownie Vegan Protein Powder - an English classic, chocolate overlaid with a layer of mint
• Cookies n Cream Vegan Protein Powder - an American favourite, with the harmonious flavours of cookies and cream
• Chocolate Peanut Cookie Vegan Protein Powder - for the adventurous, nutty ones, you won't be disappointed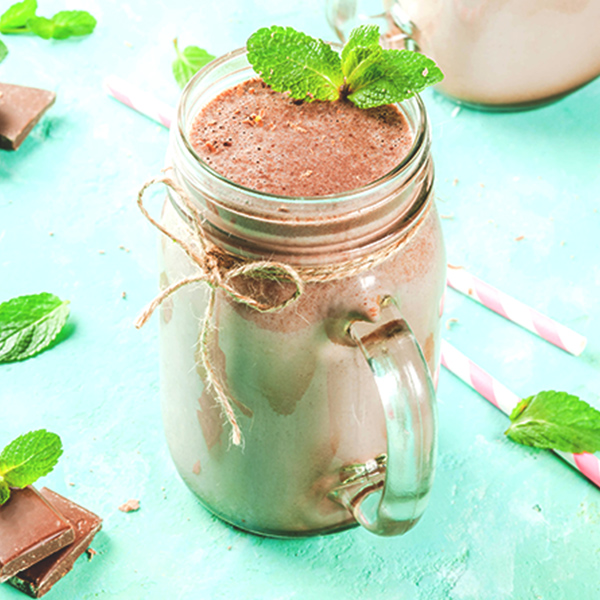 Have you tried Vegan Protein Extreme?
If Vegan Protein is not quite what you are looking for, then why not take a look at Vegan Protein Extreme?
* Nutritional Information per serving based on unflavoured
* Disclaimer: Customer reviews are independent and based on personal experience. Individual results may vary. Products designed to be taken in conjunction with a balanced diet and training plan. Nutritional Information per serving based on unflavoured.
So delicious and versatile!
I love these protein powders because of their silky smooth texture and the amazing flavours! Millionaires (sweet caramel flavour) is my favourite, it goes great in tropical smoothies or just by itself!
If you want to try more than one flavour use my referral code to get a free bag of protein with your first order: EC1400458
Cookies n Cream is the best!
I've tried many of these vegan protein flavours and the Cookies n Cream one is by far the best! 5/5
So glad to finally find a vegan protein powder that tastes good
For free protein (vegan or whey) with your first order, you can use my referral code RR1405701
Great price, great taste. I'll never be going back to whey protein ever again!! Cookies n Cream is 5/5 for taste.
Use my referral code for FREE PROTEIN when you sign up for an account: JB1417619. Enjoy!
Cookies n Cream - one of the most delicious shakes I've ever had. My first time on vegan protein and I won't be going back, amazing!
Use my referral code for FREE PROTEIN: JB1417619 Enjoy!
I normally go for the regular whey and casein based protein powders due to not suffering from lactose intolerance and also due to me not currently following a vegan or vegetarian lifestyle but it still benefits me to switch up my protein sources throughout the year to keep making progress in gaining more lean muscle mass so i find it good to use this during certain periods of the year. I did not expect this to work as well as the milk based proteins that i normally go for but was surprised to find that this works just as well to support recovery from my intense weight based workouts which is noticeable by a decent reduction in post workout muscle soreness. This mixes quite well with almond, oat or coconut milk in a standard wire-ball shaker or mixmaster but does have a thicker texture to it in comparison to most other protein powders that i tend to use which i find makes this much more filling compared to the other proteins which allows for it to work well during my dieting phases to allow for me to keep caloric intakes down to reduce levels of unwanted body fat. If you are looking for a high quality vegan plant based protein then i really recommend trying this as a great option.
I Hope That This Review Was Of Benefit, For Free Protein Please Use My Referral Code: JM15339 at checkout.
We recommend you use between 2-3 servings per day, or as required to meet your individual needs. Add 250-350ml of water or milk into your TPW™ shaker. Add 1 scoop (30g), then shake well and consume. The less water you use, the thicker your shake will be, so adjust to suit your own taste
Related Products
No matter your vegan goal, THE PROTEIN WORKS has your Non Dairy Protein nutrition sorted. Not only do we offer a great range of vegan protein powders - but we also offer a range of Vegan Protein Bars created using cutting edge bakery techniques. Or try our our Vegan Meal Replacement and Vegan BCAA's to help you reach your physique goals with ease.
Q. When should I take Vegan Protein?
A. It depends on your lifestyle and goals, but we recommend looking at the "Serving Suggestions" to find out what's right for you.
Q. How much Vegan Protein should I take?
A. It is recommended that you consume between 2-5 servings per day, dependent upon your own personal needs. A serving would be classed as 30g (one scoop) of Vegan Protein. It is recommended that you take 1g of protein per pound of body weight, so adjust your intake accordingly.
Q. How can I tell if the protein I use is a good quality protein?
A. Keys signs to look for are the level of protein declared on the label. It should also be easy to mix and with little froth. Of course the ultimate way to know is from the results you get from taking the product.
Q. Is Vegan Protein suitable for vegetarians and vegans?
A. Yes, Vegan Protein is suitable for both vegetarians and vegans.
Q. Can I take too much protein?
A. If you don't burn the excess calories that come with the additional protein, it may lead to increased body fat. No other side effects have been noted.
Q. What if any side effects will I get from taking Vegan Protein?
A. We haven't heard of any nasty side effects from taking Vegan Protein.