Ultra pure, premium grade 1000mg strength CLA capsules from Protein Works offer unparalleled levels of quality and efficacy.
Conjugated Linoleic Acid is a unique source of highly concentrated CLA derived naturally from the finest safflowers. This naturally occurring Omega 6 fatty acid cannot be produced by the body and so CLA softgels are the ideal way to boost your levels quickly and conveniently.
Widely consumed in sports nutrition and in elite sport, CLA works well with all protein shakes and in particular, when combined with a supplement like
Thermopro
.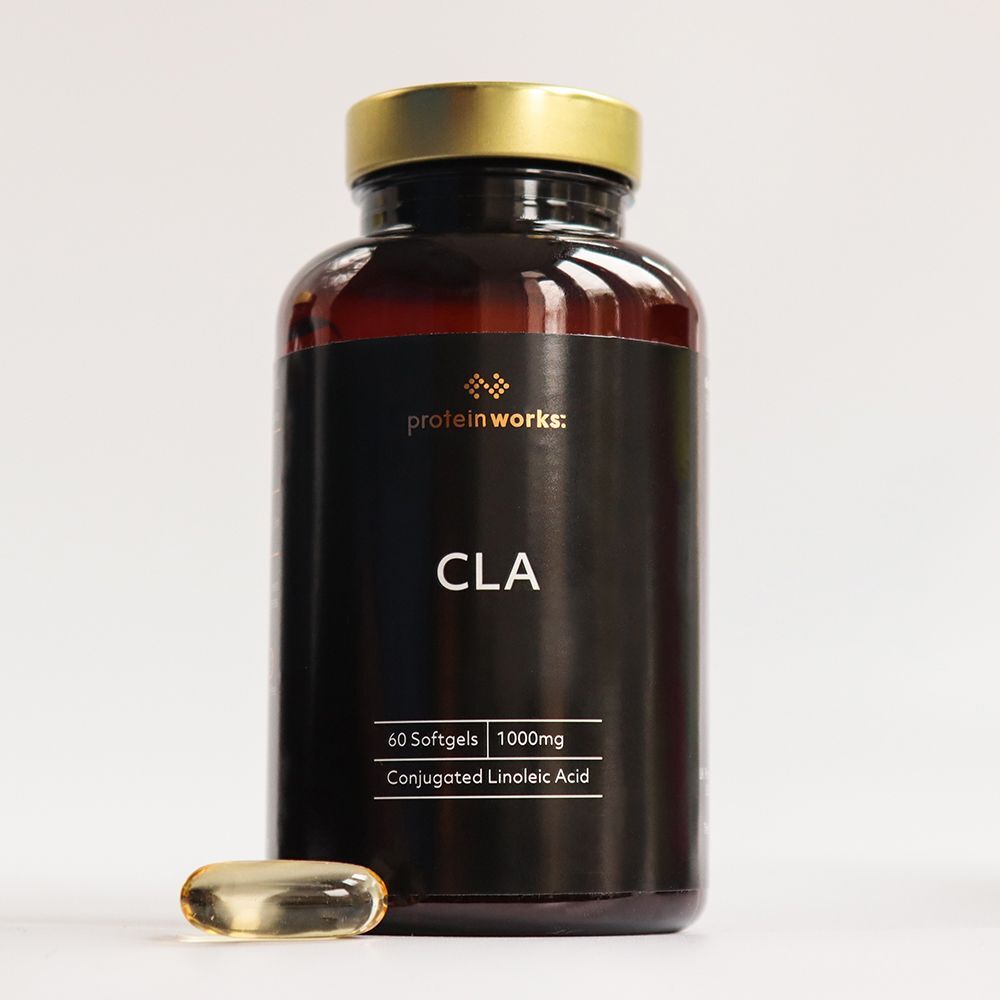 What Are CLA Tablets?
There has been a lot of hype around CLA in recent years, and rightly so, this nutritional powerhouse is the subject of thousands of studies and has become a staple ingredient in a number of dietary supplements. So what is this nutritional powerhouse? CLA, also known as Conjugated linolenic Acid, has its roots are firmly placed in the omega family tree. Being an essential fatty acid means that our body cannot produce it naturally, and given the lack of CLA in the modern diet, it can often be tough consuming the adequate amounts, and why it is incredibly advantageous to consume a CLA supplement as part of your balanced diet. This CLA tablet contains 1000mg of pure strength CLA, but if that isn't enough you can always give our Ultra CLA a shot, now that really does pack a punch.
It doesn't take a detective do uncover the many benefits of CLA, an array of literature links the potent fatty acid with everything from weight control to heart health to the normal growth and development of children. So how does it work? CLA contains a compound called Alpha-Linolenic Acid. A compound that might mean nothing to you, but for your body it packs one hell of a healthy punch. Some say it could go 10 rounds with Mike Tyson and still be able to help you in the gym! Alpha-linolenic acid has been shown to contribute towards the maintenance of normal blood cholesterol levels. This has a huge bearing on our health, because when blood cholesterol levels become too high, it can lead to a blockage in your arteries potentially resulting in a heart attack or stroke.
What Is In Our CLA Tablets
Other than 1000mg of conjugated linolenic acid within a easy to consume softgel, there is nothing else at all added. We like to keep things o'natural here so thought keeping things simple is sometimes the best cause of action. CLA is naturally produced in our body but to keep our levels at tip top shape you would have to consume a wheelbarrow load of meat and dairy. Although that would make a great BBQ in summer, it's not the easiest to consume, so taking just one of Protein Works CLA tablets could do the job for you. To give you peace of mind, it's important to note that all our products go through rigorous tests at Protein Works before they are given the seal of approval. From the ingredient sources, to how the tablet actually digests, we make sure they are given the thumbs up in every sector, so you can consume them with 100% confidence. It's the Protein Works way..


Have You Tried Our Ultra CLA?
We already know you love our Ultra CLA, but have you tried our Ultra CLA?. Ultra CLA 1500 is a premium, super strength version of the hugely popular supplement Conjugated Linoleic Acid. Unrivalled in terms of its purity and potency, each Ultra CLA 1500 softgel is made to the highest possible specifications and quality with a ground-breaking 1500mg of CLA. As we like to keep things personal, we understand that everyone is different and our bodies all require different amounts, so for individuals who need an extra kick up the bum, we created Ultra CLA, with an extra dose of 500mg of conjugated linolenic acid. It won't actually kick you, but could help you achieve your body goals quicker if you require a higher dose.
* Disclaimer: Customer reviews are independent and based on personal experience. Individual results may vary. Products designed to be taken in conjunction with a balanced diet and training plan. Nutritional Information per serving based on Unflavoured.