Filter Protein Truffles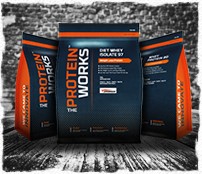 How Are Protein Truffles Made?
Protein Truffles could lay claim to being the best-selling product from the TPW™ Bakery. This is a bold statement we know, but ever since they were created our Jaffa Cake, Caramel Macchiato, Strawberry Cheesecake and Millionaire's Shortbread Diet Truffles have left TPW™ Towers at a rate of knots.
Made with our award-winning whey protein and enriched with ingredients shown to fit into any diet, they are a high protein snack that's made using our all natural flavours and colours to be enjoyed all over Europe. But aside from their unrivalled taste and texture, each truffle is also enhanced with 250mg of CLA and 150mg of Acetyl L Carnitine. Two widely-researched and proven fat loss ingredients that work in harmony with any nutrition plan.
Diet Protein Truffles™ are hand-crafted using our award-winning premium whey protein to a highly formulated in-house recipe. This includes infusing the protein blend with microencapsulated CLA, acetyl L-carnitine and fat-reduced cocoa powder to create a great tasting snack.