Filter Protein Popcorn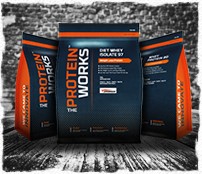 The World's First Whey Protein Popcorn
Here at THE PROTEIN WORKS™ HQ we are incredibly proud of our Naked Protein Popcorn. Launched in 2014 and now produced in the custom-built TPW™ Protein Bakery, it's fast become one of our best-selling protein snacks. Made with our widely acclaimed all natural flavours and colours, and celebrated in the fitness and nutrition media, it was heralded as the world's first naturally flavoured protein popcorn. Now there's barely a TPW&trade customers cupboard that isn't without a bucket of protein popcorn.
One reason our protein popcorn is so popular is because of the artisan methods used to create it. Too often protein snacks are manufactured using cheap, mass-producing techniques. But at TPW&trade we believe the only way to create great tasting, authentic snacks is to make them fresh, by hand and all in-house. This ensures we can control everything from the quality of the ingredients used to make them to the packaging in which they're lovingly wrapped. From our Whey Protein to our Organic Coconut Oil.
Naked Protein Popocorn&trade is of course available right now in frosted cinnamon, marbled chocolate and sweet & salty. But the meteoric rise in popularity of this protein powerhouse means it will undoubtedly be available in some awesome new flavours soon. So stay tuned and if you have any ideas in the meantime we'd love to hear them. So take to Twitter, Facebook, Instagram or Google Plus to let us know what protein snacks you want to see in the future.
There are no products matching the selection.