Filter Protein Cookies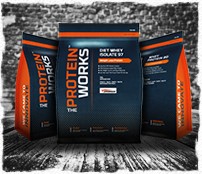 The World's Finest Protein Cookie
Protein Cookies from TPW™ Towers was music to many people's ears. This is because a beloved snack was put back on the menu and in protein form. Available in both white chocolate and double chocolate it was an immediate favourite on THE PROTEIN WORKS&trade social media. If you've never tried a TPW&trade Protein Cookie with ice cold milk before bed you haven't lived. Now produced in the same custom-built TPW™ Protein Bakery that produces all our protein snacks, protein cookies will continue to be a fan favourite.
The popularity of Protein Cookies is often attributed to the incredible flavours it's available in. However equally as impressive is the functional nutritional profile. That's because each protein cookie is made from a unique whey protein and milk protein blend that's designed to help the muscles repair and regrow whilst at the same time help keep you satiated and fuller for longer. Essentially, it's incredibly versatile and can fit into almost any diet and nutritional protocol. In many ways Protein Cookies are the ideal protein snack.
Because Protein Cookies are so versatile they can be, and often are, used with all other supplements. Kept in gym bags, cupboards and desks at work they're one of the best ways to ensure athletes, and people who lead an active lifestyle, meet their elevated protein requirements.
TPW™ Protein Cookies are premium soft baked cookies with as much as 50% protein content. Designed with an optimal balance of protein and carbohydrates, our best-selling snack is a nutrient-dense, high protein food that incorporates our innovative all natural flavours.