Filter Protein Chips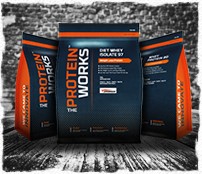 At TPW™ Towers we are renowned for our huge collection of incredible dessert -like natural flavours. Lemon Shortcake, Cherry Bakewell and Jaffa Cake all made waves in the sports nutrition media when launched. But what equally broke new records was our TPW™ Protein Snackers™. Our form of protein chips that represents a savoury dietary saviour for many people. Very high in protein they're the healthier, nutritional substitute to crisps and the perfect way to supplement a high protein.
Before TPW™s protein crisps burst onto the nutrition scene crisps were literally off the menu. But boasting over 10g of protein per bag, and as little as 5.4g of carbohydrates, the TPW&trade scientists have managed to put them back on the table and back into people's diets with Protein Snackers™. Available in both Barbeque and Sour Cream & Onion flavour it's not surprising gym bags and cupboards up and down the country are stocked with them.
We're incredibly proud of our protein crisps. But like most things at TPW&trade Towers the innovation doesn't stop there. With the creation of our new TPW&trade protein bakery you can expect a whole host of new savoury products to come flying out the warehouse and into your life. So stay tuned, your diet is about to get a whole lot more interesting.
There are no products matching the selection.