Filter Protein Balls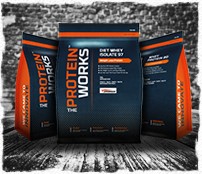 What Are Protein Balls?
Protein Balls are spherical protein snacks of nutritional awesomeness. They can take the form of Protein Truffles or Protein Nutties™ but each one is made with our award-winning whey protein and made using our all natural flavours and colours.
At TPW™ Towers our protein snacks come in all different shapes and sizes. Our protein bars are perfectly cut using artisan baking methods. Our protein popcorn is lovingly prepped and packed. Lastly, our vegan snacks are made under strict and ethical guidelines. But among the plethora of food-based formats, it's the shape of our perfectly round protein balls we are most proud of.
Protein Nutties™ are a unique nutty protein snack, fresh out of the TPW™ Protein Bakery right here in the UK. They are made with 100% natural nut butters and the finest whey proteins and are packed full of healthy mono and unsaturated fats.

The Protein Nutties™ Bakery Box is what happens when you take a nut butter obsession to a culinary genius and a sports scientist and ask for a nutritional miracle… the result? A perfectly baked fusion of 100% natural nut butters and premium grade whey protein, blended with the finest ingredients, including organic virgin coconut oil and organic raw cacao nibs. All that, delivered in a handy sized snack that packs a nutritional punch well above its weight! Baked, prepped and packed all by hand at TPW Towers this box of nut & protein powered snacks is unique to TPW and sell out faster than we can make the gems!

Our Protein Truffles™ Bakery Box is the supercharged younger sibling of our much loved Diet Protein Truffles™. Now, because we like to bend the rules a little, although we say 'younger', these nutritional ninjas are actually BIGGER than our Diet Protein Truffles™ & that's because we wanted to give you a protein snack that packed more in its punch! With us? Well, adjust your settings now, as bigger also comes with less calories than you might expect. Weighing in at just 125 calories per Truffle & boasting 14.5g of Protein, kill cravings with a double whammy of taste & nutritional greatness!

When we first launched the Protein Bakery™ we wanted to take the world on a journey of edible exploration – redefining what typical Protein Snacks tasted like & the nutritionals they delivered. 5 years on and our Protein Baking Ninjas are still baking fresh each day, still hand rolling, hand drizzling & hand cutting each bakery delight that leaves TPW™ Towers. Now, for a very limited time only we've created special edition Protein Bakery Discovery Box, think of it as the Top Trumps of Protein Snacking, this box delivers 1 full sized bakery masterpiece of each of our renowned snacks – try, taste & test!

Diet Protein Truffles™ are hand-crafted using our award-winning premium whey protein to a highly formulated in-house recipe. This includes infusing the protein blend with microencapsulated CLA, acetyl L-carnitine and fat-reduced cocoa powder to create a great tasting snack.