Filter Powders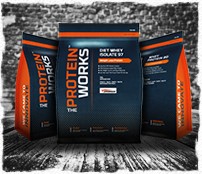 Protein Powders, Pre-Workouts and Carbohydrate Formulas
THE PROTEIN WORKS™ powders range is absolutely loaded with only the finest creatine monohydrate, aminos and pre-workoutson the market today.
Whilst we undoubtedly have one of the best and most comprehensive collection of protein shakes we also pride ourselves on having absolutely everything you would need to support your training. Which is why the non-protein specific powders range was given an entire section on the site to itself. It's in keeping with our PERSONAL philosophy and promise to you to offer bespoke nutritional and supplement support whatever your individual fitness goals. So whether you want to increase muscle mass, lose body fat or improve sports performance we will have the right sports powder to help you achieve it.
Creatine has been the subject of thousands of studies. This is because it has been scientifically found to increase physical performance in successive bursts of short-term, high intensity exercise. For this very reason creatine is arguably the second most used supplement in sports nutrition. Whey protein of course being the most popular. Therefore understanding the importance of creatine we at THE PROTEIN WORKS™ offer it in all its many forms. Visit each product page below for a detailed explanation as to why each form is different.
Regarding carbohydrate powders we again have different forms to suit your needs. Such as the rapidly absorbed Dextrose, Maltodextrin and Waxy Maize Starch to take with your whey protein powder post workout. Or instant oats, a lower glycaemic index carbohydrate ideal for providing a slow and sustained release of energy throughout your workouts. Essentially this is the carbohydrate form of the slow absorbing casein protein.
Our amino acid powders range includes certain staple aminos that should be in all athletes' diets.
This is because whilst having 'whole' and complete forms of protein in your diet like whey protein isolate, there have also been numerous studies to show the benefits supplementing with free-form amino acids too. The best known of these being our BCAA powder that used to enrich many of our award-winning protein shakes.
At TPW™ we're always looking for ways to improve, both in terms of the sports nutrition we offer and our service. That's why our entire powder range is packaged under strict Good Manufacturing Practice and made in sealable, robust containers and packages to ensure they leave the TPW™ Headquarters and arrive with you in the best possible condition. Essentially, exactly the same manufacturing processes that govern our widely-acclaimed protein powder applies to our powders range too.
Diet Super Greens is a revolutionary formula that incorporates all the nutritional benefits of our best-selling Super Greens powder with cutting-edge premium grade ingredients designed to aid fat loss. One serving of Diet Super Greens powder equates to 5 portions of fruit and veg.

BCAA otherwise known as Instantised Branch Chain Amino Acids is a premium amino acid supplement. IBCAA contains an optimal blend of the three amino acids, leucine, isoleucine and valine in a 2:1:1 ratio. TPW™ BCAA is available in unique natural flavoured options, as well as the standard unflavoured.

Genesis Pre Workout™ is a high potency formula that challenges current pre workout sports nutrition boundaries and thinking. The formula is based solely on cutting-edge ingredients and incorporates the very latest manufacturing techniques.

Nitro Works™ is a high potency pre-workout formula designed for strength, speed and power athletes. It has been formulated to be the most comprehensive preworkout formula on the market today, containing no less than 12 premium grade, active ingredients for optimal results.

RAZE™ Pre-workout is a potent, pre-workout formula for those looking to take their training to the next level. Ideal for those high-intensity workouts, and containing up to 5g of iBCAA and 4g of premium creatine per serving, it is designed to help you power through the toughest sessions.

Super Greens powder is an extremely potent superfood greens powder formula, packed full of 23 of the world's most nutrient dense food sources. TPW™ Super Greens powder is made from only premium grade ingredients, making it an ultra nutrient dense shake to take any time of the day.

Muscle Super Greens from The Protein Works™ is a ground-breaking formula which fuses together our best-selling nutrient dense Super Greens and cutting-edge premium grade amino acids designed to promote muscle growth and aid recovery.

Flax Seed powder from TPW™ is 100% natural and of the finest quality. It is cold milled to ensure full integrity of the product and efficacy. It is free from sugars, soy, dairy and preservatives and serves as a good source of fibre. Flax Seed contains essential fatty acids (EFAs), especially Omega 3.

Pure Fine Instant Oats from THE PROTEIN WORKS™ are 100% natural fine ground Scottish oats. They are a quality food source of low GI carbohydrates, high in soluble fibre and contain other vital nutrients such as zinc, vitamin E, calcium and iron. All of which help support general health.

TPW™ Creatine Monohydrate is simply the finest quality creatine on the market today. Made from 100% pure creatine, nothing has been added or taken away during the production process. It is 100% '200 mesh', meaning it has an ultra small particle size to ensure fast absorption by the body.

Matcha Green Tea Powder from THE PROTEIN WORKS™ contains more antioxidants than 10 cups of green tea. Made entirely from unopened leaf buds, each one is dried slowly and undergoes a series of meticulous manufacturing methods to ensure purity is high and oxidisation is minimal.

Diet Protein Water is an innovative diet-specific, fruit-based protein with only 92 calories per serving and is completely free from added sugar. It's made with a unique blend of our award-winning whey protein and pure coconut water and is enriched with vitamins, minerals and extracts.

TPW™ Maltodextrin is a complex carbohydrate that is rapidly absorbed by the body to provide an immediate release of energy. It has been carefully selected for its premium quality and is guaranteed to be 100% pure.

Acetyl L Carnitine (ALCAR) from The Protein Works™ is a premium grade amino acid sourced from a TPW™ accredited supplier and manufactured in-house and is a form of L-Carnitine. It is naturally produced by the body, but an extremely popular as a sports supplement.

Creatine Mono Creapure® is the genuine finest grade creatine monohydrate produced by Alzchem®. It is widely recognised as the purest and highest quality micronized creatine on the market today. Its micronized particles offer several benefits, not least faster absorption & digestion by the body.

Super Reds is a unique red fruit blend formula. This unique superfood shake is packed with 13 nutrient-dense superfruits. Harnessing the power of nature, Super Reds is a scientifically driven formula infused with all-natural flavours to create a great tasting, healthy shake.

Ideal for athletes and anyone who trains, our premium grade natural coconut water is high in nutrients, electrolytes and natural sugars, which makes it the perfect supplement for anyone looking for an effective and natural isotonic to rehydrate during training.

Barley Grass Powder from TPW™ is premium sourced for maximum efficacy. It is a very versatile green powder supplement that is widely used by athletes due to its high concentrations of minerals, vitamins, amino acids and enzymes.