The Ultimate Meal Replacement Protein Shake
As well as boasting an impressive 24g of protein per serving, each Mealtime Protein shake is infused with our innovative vitamin & mineral blend, packed full of vitamin C, vitamin B12, vitamin D and calcium. The simple 30 Day Plan makes Mealtime Protein a convenient and easy to follow programme for anybody looking to live a healthy lifestyle.
Mealtime Protein is the ultimate in meal replacement protein shakes. Its comprehensive formula is designed to give you everything you require for a balanced, nutrient-packed meal, whilst also tasting insanely delicious.
FREE 30 DAY MINI FITNESS GUIDE
With every Active Collection protein shake purchase, we're giving away our 30 Day Mini Fitness Guide ABSOLUTELY FREE! This unique guide worth £19.99 is designed to help you reach your goals and support you through your Mealtime Protein Plan including recipes, training plans, step by step guides and much more. Click the button below to read more about the guide.
This unique 30 Day Plan has been developed by our team of nutritionists and consists of one shake per day in replacement for any meal, with the routine of 6 days on, 2 days off - this cycle then continues for 30 days. Mealtime Protein can replace any of your usual meals, but for best results, we recommend consuming your daily protein shake as your meal after a workout or any form of physical activity.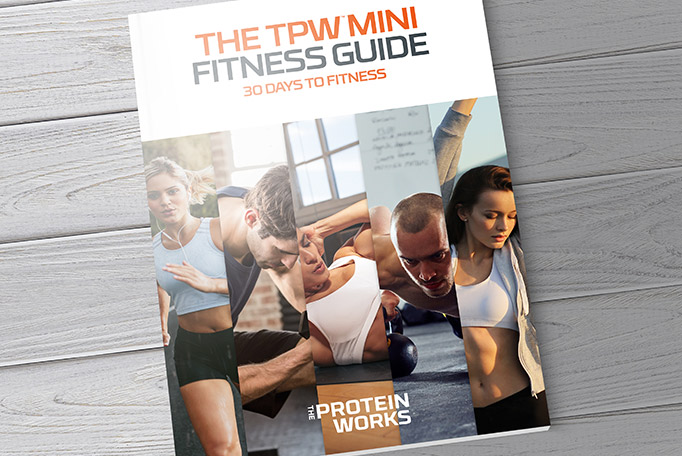 INSANE TASTING NATURAL FLAVOURS
In a world of average tasting protein shakes where taste is either based on artificial flavours or hidden nasties or both, we stand alone. We're not number one rated and multiple award-winning for nothing. All our protein shakes are made with only natural flavours and the finest protein sourced from within the EU.
Mealtime Protein comes in a range of ultra smooth, epic flavours that we guarantee will keep you craving for more. Chocolate Silk has smooth, rich cacao tones combined with super silky and indulgent textures to create the perfect chocolate shake. Strawberries 'n' Cream is your classic summer fruity favourite infused with creamy textures to deliver an awesome strawberry milkshake.
WHAT IS PROTEIN AND WHY IS IT GOOD FOR YOU?
Protein is responsible for maintaining, repairing and building muscles in the body. It is one of the three macronutrients and is a very important factor in any healthy diet.
There are many different types of protein in your body, all of which are made up of amino acids. Every day, our bodies require 20 different types of specific amino acids, which is why we need to ensure that we supply our bodies daily with sufficient amounts of good quality protein. Following the Mealtime Protein Plan means you're replenishing your protein stores in a convenient, healthy meal replacement shake.
Love the Chocolate Silk flavour!
I love this product! It tastes amazing and does the job. If you want to get lean this products compliments any training regimen :)
Tastes really satisfying as a substitute to other snack foods and meals. Great for anyone looking to get lean!
Got a free fitness guide when I got this, had it about a month now and taking it once a day with skimmed milk in recplace of my usual lunch. The results are fantastic and couldnt be happier. I also bought the Truffles too for a snack incase I get hungry between meal
Choc Silk for the win!! So delish!
A friend recommended TPW to me and I'm really glad they did. Really happy with the product. More flavours please!
Additional Information
| | |
| --- | --- |
| Values based on: | per 100g | per serving |
| Energy (kJ) | 1459 | 875 |
| Energy (kcal) | 348 | 209 |
| Fat (g) | 5.4 | 3.3 |
| of which Saturates (g) | 1.5 | 0.9 |
| Carbohydrates (g) | 29.4 | 17.6 |
| of which Sugars (g) | 14.7 | 8.8 |
| Fibre (g) | 9.4 | 5.6 |
| Protein (g) | 40.7 | 24.4 |
| Salt (g) | No |
| Cholesterol (mg) | No |
| Sodium (mg) | No |
| Calcium (mg) | No |
| Please Note: | No |
Ingredients
| | |
| --- | --- |
| Protein Blend [Whey Protein Concentrate (Emulsifier: Soya Lecithin)(Milk) | |
| Micellar Casein (Milk) | |
| Oat Flour | |
| Skimmed Milk Powder | |
| Dietary Fibre (Inulin) | |
| Vitamin & Mineral Blend [Potassium Phosphate, Calcium Carbonate, Calcium Phosphate, Potassium Iodide, Chromium Chloride, Magnesium Oxide, Vitamin C, Vitamin E Acetate, Ferric Pyrophosphate, Vitamin B3 (Niacin), Biotin, Sodium Selenite, Vitamin A Acetate, Zinc Oxide, Vitamin B5, Copper Gluconate, Vitamin B12, Manganese Sulphate Monohydrate, Vitamin B6, Vitamin B9 (Folic Acid), Vitamin B1 (Thiamine), Vitamin D2, Vitamin B2 (Riboflavin)] | |
| Micro-encapsulated Conjugated Linoleic Acid [Safflower Oil, Sodium Caseinate (Milk) | |
| Emulsifier (Soya Lecithin) | |
| Antioxidant (Vitamin E)] | |
| Natural Flavouring | |
| Colour (Beetroot Powder) | |
| Sodium Chloride | |
| Sweetener (Sucralose). | |
| Contains: For Allergen information see ingredients in ORANGE | |
Serving Size: 60g (2 scoops) of Mealtime Protein
Our 30 day plan is based on 1 shake per day for 6 days, then 2 days without. (The rule being 6 days on, 2 days off). Continue this cycle for 30 days.
Add 300-350ml of water or milk into your TPW™ Master Blender. Add two large scoops (60g) of Mealtime Protein, mix well and drink.
The less liquid you use, the thicker your shake will be, so adjust to suit your own taste.
Mealtime Protein is designed to replace a typical meal, so it is suitable to consume as breakfast, lunch or dinner. Alternatively, it can also be consumed between meals to keep hunger at bay.
Q. When should I take Mealtime Protein?
A. Our 30 day plan is based on 1 shake per day, for 6 days, then 2 days without. (The rule being 6 days on, 2 days off). Mealtime Protein is designed to replace a typical meal, so it is suitable to consume as breakfast, lunch or dinner. Alternatively, it can also be consumed between meals to keep hunger at bay.
Q. Is all whey the same, regardless of which brand it is?
A. As a customer, we believe it is not only your right to demand the best, but also that you know you're getting the best. It is very true to say that not all proteins are created equal! Here at the protein, we are committed to high quality and transparency, so we give you all the information you need from your products.
Q. Is Mealtime Protein Suitable for vegetarians?
A. Yes, Mealtime Protein is suitable for vegetarians but not vegans.
Q. Can I take Mealtime Protein with other supplements?
A. Yes of course, although Mealtime Protein is a specific 30 day plan, why not try it with one of our awesome bakery snacks.